---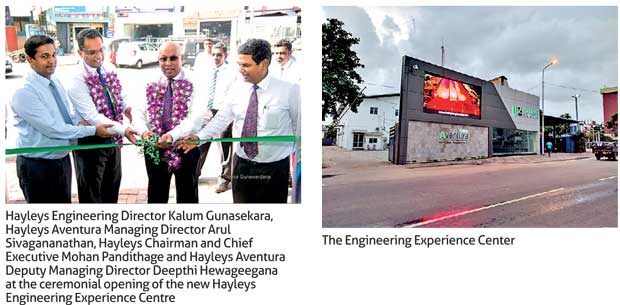 Hayleys Engineering recently unveiled Sri Lanka's first ever Engineering Experience Center that provides engineers, consultants and clients the opportunity to experience latest technology and technology yet to come to Sri Lanka.

Situated at the Hayleys Engineering offices on 180/3 Arnold Ratnayake Mawatha, Colombo 10, the new facility was designed as a solution to the recurring challenge that consultants and engineers face in testing products in conditions similar to the typical working environments by providing a frictionless experience that mimics automated, secured and flexible home and office spaces.

The new concept center will serve as a working showcase with flexible configurations built to represent various use cases common in high-rise, hotel, administrative, commercial and industrial buildings meaning that potential clients gain a deeper understanding of how the latest technology can be practically implemented within a single tour of the facility.

"The opening of the Hayleys Engineering Experience Center represents our continuing commitment to provide unprecedented value our valued customers. By providing them with real-time experiences and allowing them to see how our teams work is the best way to understand the true potential of our cutting edge products. Particularly at a time when Sri Lanka's construction is making rapid progress at a rate that is almost on par with the rest of the world, we believe that it is crucial to introduce the very best that technology can offer into the domestic industry in order to harness the true innovative and creative potential of the market. In that regard, Hayleys Engineering is committed to playing a catalysing role in the local industry, providing solutions and the very latest technology needed to take the nation onto a higher growth trajectory," Hayleys Engineering Application Engineer Narada Balasooriya said.

The Experience Center houses a diverse spectrum of products including security, building management, generator, energy management, pump, HVAC systems, material handling and fire systems, while the company also plans to add further products showcasing the latest in total renewable and energy management systems, a vital step towards the expansion of affordable, high quality, green building solutions into the Sri Lankan market.

Hayleys Engineering is a business entity operating under the umbrella of Hayleys Aventura, a subsidiary of the Hayleys Group dedicated to providing innovative, creative and practical industrial solutions. Hayleys Aventura engages in business-to-business relationships using an extremely flexible portfolio of products and services capable of offering industrial solutions for every need, while tailoring solutions based not only on a business' existing and future needs.