---
At any given time there are close to 19,000 Sri Lankan students overseas on higher education. HSBC Sri Lanka, leveraging its international connectivity and capabilities, has come up with a unique proposition, becoming the first bank in the country that offers a full range of services to this segment.

The most sought after higher education destinations for Sri Lankan students are Australia, US, Malaysia, UK and India, where HSBC has a strong footprint.

In this backdrop Mirror Business sat with HSBC Sri Lanka Retail Banking and Wealth Management Country Head Nadeesha Senaratne, to find out more about the bank's latest proposition aimed at serving Sri Lankans planning to study abroad.

Following are the excerpts from the interview: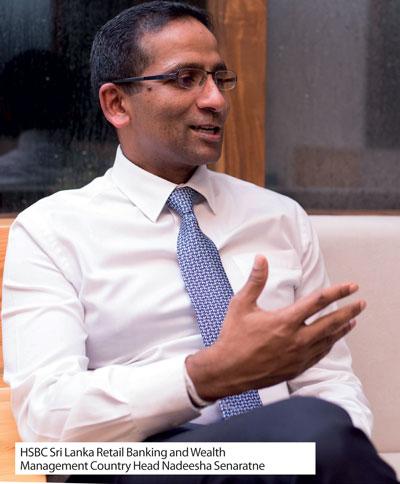 Could you briefly explain the reasons behind coming up with a proposition like this?
HSBC, as a leading international bank, conducts an important study globally 'HSBC's Value of Education Survey,' which evaluates parent's hopes and fears into their children education, attitudes and behaviour towards funding and student experiences. The findings are from over 10,400 parents, 1,500 university students across 15 countries globally.

Over 19,000 Sri Lankan students study overseas primarily in five countries such as Australia, US, Malaysia, UK and India which are key corridors where HSBC has a strong footprint. HSBC is present in 66 countries around the world and by leveraging our international connectivity and capabilities, we are proud to be the first bank in the market to offer a full range of banking services to support students through every step of their overseas education journey and provide parents the peace of mind.

Why do you think prior financial planning is important when a young person thinks of proceeding with overseas education?
The survey specifically sheds light into overseas education and key pain points that parents and prospective students go through. We understand our customers pursue a planning process for their children's overseas education that consists of four steps. They are; Dreaming: This is where parents initiate the thought process of sending the child overseas; Planning: Evaluate multiple options such as curriculum, country/universities and funding; Moving: Where students explore financial options pre and post departure; and Settling: Experience overseas student life.

What the HSBC survey clearly shows is that early planning and saving for education can certainly help children fulfill their overseas education aspirations, while limiting the strain on family finances. This is where a truly international bank like HSBC can support with branches across key corridors for education like in UK, Australia, US, Malaysia and India and across our wide global network to support students planning to study overseas.

What is there in HSBC's product portfolio that supports this segment?
HSBC is here to support students throughout their education journey and support parents to start planning very early by offering the right products and services to facilitate the entire journey from dreaming, planning and moving to settling in a new country.

We will support, HSBC Premier students and parents in a two ways as follows: When the child is under 18 years of age, HSBC Premier customers can open a HSBC Premier Junior account whereby a child can start the saving habit very early in life.

The services offered include a dedicated savings account, an HSBC Premier debit card at the age of 12 years, which includes exclusive access to lifestyle events such as movies, junior golf events and summer escapes and exclusive access to the Araliya lounge when they travel overseas, among others.

But what's really unique is what HSBC has in store when the child turns 18 years. With HSBC Premier Next Gen account, the children of our Premier customers can continue to enjoy the full range of Premier benefits until they turn 28 years.

HSBC Premier Next Gen, a service specially offered to the next generation of Premier customers will provide banking solutions whilst they find their feet and explore professional and career aspirations in their journey towards financial independence. They get to enjoy similar benefits such as a dedicated relationship manager, Premier debit card, Premier credit card, Premier cheque book, international banking with global view/ global transfer facilities and access to exclusive Premier events both locally and globally, similar to their parents with the Premier status.

The eligibility criteria for Premier Next Gen is, a parent residing in Sri Lanka can open a savings account under the child's name with a minimum deposit of Rs.100,000 (No minimum balance required), when they turn 18.

How does HSBC's proposition differ from the propositions offered by other international or local banks to this segment?
With our presence in Sri Lanka for over 126 years and as the leading international bank, we believe we are best equipped to serve this segment than any other competitor bank. Students planning to move overseas can enjoy a plethora of services supported by HSBC's global footprint in the locations that matter most for Sri Lankan students, combined with our mobile banking functionality, especially global view and global transfers and more importantly free overseas account opening pre-departure, which is a first in the market.

Other benefits that will follow are: Free overseas account opening before the student travels, free international transfers through global view/global transfer (GVGT), fee waivers and preferential exchange rates on telegraphic transfers, priority consultancy services through 3WGE overseas consultants, local knowledge on overseas markets, emergency cash encashment services and overseas appointment booking services.

With our unrivalled global network across 66 countries, we have a good understanding of international markets and aspirations of our Premier customers and overseas students. We can help provide knowledge and guidance to students through our global branch network.

Therefore, we are better positioned to support students through every step of their education and career ambitions.

We encourage parents and prospective students to visit our website 'www.hsbc.lk/overseaseducation' to find out how HSBC can help them through the journey.