---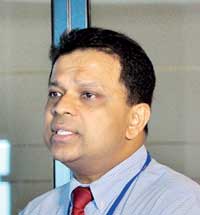 The second largest private lender, Hatton National Bank PLC (HNB) said they see a growth which would stem from the real estate and housing segment in 2016, which would offset the slowdown in demand for vehicle leases.
According to HNB CEO Jonathan Alles, despite the toughened macro-economic conditions are seen slowing down the demand for private credit in 2016, the personal banking segment would remain intact with a demand for housing coming into the fore.
"Last year probably was a vehicle year. Everybody went for leases to purchase vehicles and today we have too many vehicles on our roads. This year, you will see HNB focusing a lot on driving housing whilst there are challenges as well as opportunities in the apartment market. We expect to see more transfers being done in terms of land deals," said Alles addressing the bank's investor forum.
HNB, which saw a lending growth in excess of 25 percent or Rs.105 billion in 2015, expects the growth to slow down to 15 percent in 2016 due to rising interest rates and other macro-economic challenges. The bank's leasing book grew 65 percent or Rs.15.8 billion to Rs.40.3 billion during 2015. "The increasing number of young guys coming to Colombo for work keep telling me that they see the cars that others come in but they don't see the house that they live in," remarked Alles expressing his intention of tapping the salaried borrowers to a large extent. However, Alles said offering fixed long-term rates for housing loans could become a challenge in a volatile market as getting in to such long-term positions entails risks.
Rising interest rates however offers the bank's the opportunity to widen their net interest margins (NIMs). The bank's NIM came down to 4.01 percent in 2015 from 4.62 percent a year ago and the higher margins of its micro-financing unit, HNB Grameen, cushioned the group margins. Meanwhile, the net fee incomes stemming from credit cards and trade finance business compensated largely for the depleting margins. Alles further said the rising interest rates would also enable them to allocate more resources to the small and medium enterprise sector as higher spreads will compensate the risk that the bank takes on this segment, which was not adequate before.
"We see the opportunity to grow the SME business in the regions when they are growing at the right margins. This was difficult previously because the margins were not commensurate with the risk that we were taking," he said. Speaking about the gold-backed loan business, Alles said the bank sees neither the attractive margins nor the growth, which it saw previously.
The bank's exposure to such loans was just above 3 percent by the end-2015, sharply down from 16 percent three years ago. HNB, which invested heavily into information technology and its digital strategy, promotes its digital banking channels in a bid to reduce cost, increase fee-based incomes and lure the digital consumer. The bank has invested up to Rs.2 billion in IT during the last three years and another Rs.2.5 billion is allocated for the next three years, demonstrating the bank's strong focus on its digital drive. For the financial year ended December 31, 2015 the bank posted a net profit of Rs.10.6 billion, up 7 percent. The banking group has an asset base of Rs.758 billion. Pic by Nisal Baduge