---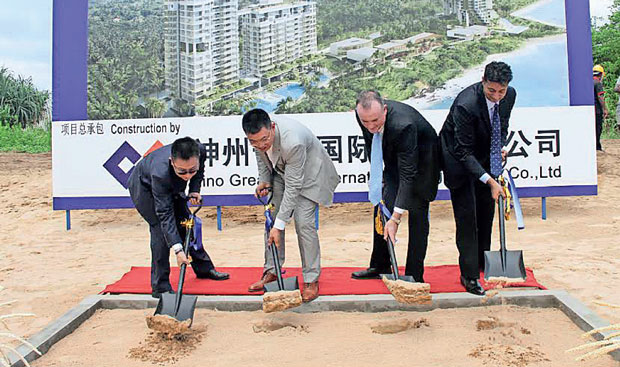 From left: Sino Great Wall International Engineering (Pvt.) Ltd. Sri Lanka Branch General Manager Billy Tang, Sino Great Wall International Engineering (Pvt.) Ltd. Vice President Hans Ruxue, Indola Group Director Ajit Wijesinghe and Indola Group Director Paul Dwyer
Pic by Pradeep Dilrukshana
By Zahara Zuhair
The ground breaking ceremony of the Indola Group's and Dusit Thani Sri Lanka's US $ 200 million beachfront project in Balapitiya took place yesterday.
The whole project is to be completed in 2019 February, while the first phase includes two towers comprising of 136 apartments.
Indola Group Director Ajit Wijesinghe said this is the largest private investment in the Southern part of the country so far.
Talking about Dusit Thani's future projects, he said a hospitality industry training institute and a golf course are also in the pipeline.
"Dusit Thani is going to have the largest training school for hospitality in the region. A project like this has the potential to train the people of the South," he said.
The US $ 200 million Dusit Thani Beachfront Balapitiya project in Sri Lanka's Southern coast was launched last November as a joint venture between Thailand-based multinational hospitality company Dusit Thani and Sri Lanka's Indola Group.
The project comprises of four towers and a promenade, and it is the only five-star luxury high-rise development on a Sri Lankan beach open to foreign investors.
The construction contract of the project was awarded to China's Sino Great Wall International Engineering (Pvt.) Ltd, last month. This is the first individual project the company has undertaken in Sri Lanka.