---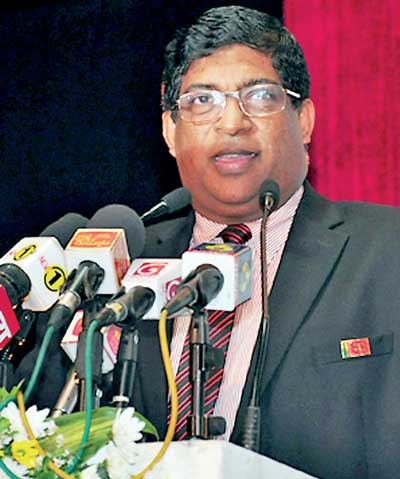 The government will be entering a restructuring phase over the next two months to bring in the exchange management legislation and a facility from the International Monetary Fund (IMF), the country's Finance Minister said. "Just because the world is in a spin, it doesn't mean that Sri Lanka needs to be in a spin. In the next two months,
we will be rebalancing and reworking with a sense of strength rather than a sense of weakness," Ravi Karunanayake said at the syndicated loan signing ceremony of the LOLC group. He hinted that the Exchange Management Act, proposed in the Budget 2016 to replace the existing archaic Exchange Control Act, might be presented and passed within this time period. "You will see in the next two months exchange controls being relaxed and completely opened up," he said. However, he admitted that they wouldn't be as free as in the Western financial hubs, as Sri Lanka must build up safeties against shocks while integrating with the world.
Sri Lanka has had rigid exchange control regulations which prohibit outflows of funds. Limited liberalization was seen last month when the Central Bank allowed holders of foreign currency accounts to remit funds equal to the value they have deposited in the past. Meanwhile, Karunanayake revealed that the past government
had borrowed Rs.1.1 trillion, which had not been entered into official records. "We have almost Rs.1.1 trillion unaccounted for in the past. But this does not need to be a worry for the international lenders and parties that position Sri Lanka into how vulnerable, how good or how bad it is, because these are reconciled by the government which is coming forward," he said. Prime Minister Ranil Wickremesinghe recently said that the Contingent Liability Bill will be enacted this year to raise money for such surprise debt maturations by circumventing the regular channels of approval. Karunanayake said that the IMF facility would also be utilised for such surprises. "And that's why the Prime Minister and we are looking at the IMF.
There's no necessity for Sri Lanka, but the abundance of prudence in a time when the world is in a spin, it's better to be cautious than to be stupid thinking we can do without it. Many are asking us if this is a sign of desperation. No. It's a sign of an absolute safety net that is being put in," he said. The 2016 Budget said that the interest on known borrowings for 2015 was estimated at Rs.492 billion, which would increase to Rs.520 billion in 2016.
The IMF facility will come with its own demands for improving the economy, while economists believe that the safety net and the confidence created by such an arrangement will allow the government to conduct the necessary reforms for the country to become a modern economy.