---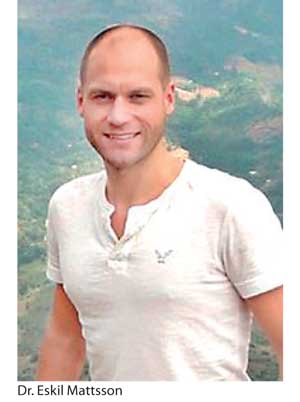 By Shabiya Ali Ahlam
In Sri Lanka's effort towards boosting the capacity and infrastructure required to reduce emissions from deforestation and forest degradation, the government should look at supporting and incentivizing smallholders, an environmental expert said.

With smallholders contributing to over 80 percent of the nation's annual crop and timber production, Dr. Eskil Mattsson, Centre for Environment and Sustainability University of Gothenburg/Chalmers University of Technology, said greater emphasis towards that group is essential and must be done in a manner that takes into account their aspirations.

"Supporting them will be essential to future food security and this needs to be done from a farmer's perspective taking into account their needs. While interventions are needed, each ecological zone must be treated according to its environment and social circumstances," said Dr. Mattsson, while addressing the International Research Symposium on Valuation of Forest Ecosystems and their Services, in Colombo.
It was added that long-term transdisciplinary and data-dense research programmes are required with clear monitoring and evaluation methods based on clear indicator frameworks.
According to Dr. Mattsson, such would assist in further understanding the dynamics of the said ecosystems in relation to the changes in society and environment.

Noting such programmes would aid in merging the aspirations of individual farmers with low carbon development on the large, the relevant authorities were urged to look at stepping up funding and commitment. Authorities were also asked to reconcile different land-based activities, reconnect with the environment and people in an integrated and sustainable manner by opting for a 'bottom-up approach' to land-use planning.
Stressing that work is required across sectors and government institutions, Dr. Mattsson opined that there is a need to get right the right mix of land uses – from strictly protected areas to agroforestry, home gardens to intensive agriculture.

"Ensuring compatibility between the entities will take a range of approaches and actors working in together. It is important to harmonize national development programmes highlighting food security with international programmes for climate mitigation, adaptation and sustainability to identify trade-offs and synergies," he said.
Dr. Mattsson asserted such is imperative since there isn't enough research about trade-offs, synergies and risks between the preferred choices made by individual farmers and those options that are most preferable from climate mitigation or an ecosystem services perspective.