---
By Chandeepa Wettasinghe
The government may have to attract foreign expertise in order to wrap up the free trade agreement (FTA) negotiations with China, India and Singapore, Sri Lanka's Foreign Affairs Minister Ravi Karunanayake said yesterday.
"We continue to prioritize our free trade agreements with India, China and Singapore. If our local resources are overstretched, we should seek the external expertise and training to conclude these negotiations," he said.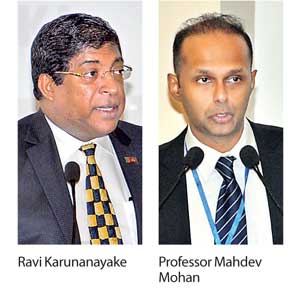 Karunanayake was speaking during the 'Emerging Issues in the Indian Ocean' seminar held at the Kadirgamar Institute of International Relations and Strategic Studies, yesterday.
Sri Lanka's chief negotiator for the FTAs, Institute of Policy Studies Executive Director Dr. Saman Kelegama, passed away last week. Prior to Dr. Kelegama's demise, the cabinet issued a statement that the FTAs would be finalized by the end of this year.
Following Karunanayake's comments yesterday, it is possible that the trade negotiations might be delayed until the foreign expertise required is absorbed by the negotiators.
However, the trade negotiations are carried out under the Development Strategies and International Trade Ministry, which was created in 2015, while legally the powers lie within the Industry and Commerce Ministry.
Karunanayake, who was until last month the country's Finance Minister, too is now entering the fray with his policies of 'commercial diplomacy', which bear striking resemblance to the 'economic diplomacy' policies of National Policies and Economic Affairs Deputy Minister Dr. Harsha de Silva, who before the same ministerial reshuffle was Foreign Affairs Deputy Minister.
Meanwhile, Singapore Member of Parliament Professor Mahdev Mohan noted that the countries with limited experience in negotiating international trade pacts could possibly end up getting lesser benefits from an agreement compared to the countries with more experience in negotiations.
China, India and Singapore all have experience negotiating dozens of FTAs. Sri Lanka's two bilateral agreements with India and Pakistan, which aren't full FTAs due to the lack of trade in services, are largely considered to be weak with many arguing that they are failures.
Sri Lanka exported US $ 375 million in goods under the Indo-Lanka FTA in 2016, down from US $ 407 million in 2015, while under the Sri Lanka-Pakistan FTA Sri Lanka's exports fell to US $ 52 million in 2016 from US $ 59 million in 2015.
Imports from these countries are several times Sri Lanka's exports, although the imports are mostly outside the FTAs.
Sri Lanka's two regional trade agreements, the South Asian FTA and Asia Pacific Trade Agreement, have also failed to create substantial economic dividends for the country with exports of US $ 8 million and US $ 126 million, respectively in 2016.
Despite Sri Lanka's past failures with regard to FTAs, the current government is focused on fast-tracking the FTA negotiations.
According to the initial statements made by Development Strategies and International Trade Minister Malik Samarawickrama in mid-2016, the Singapore-Sri Lanka FTA would have been negotiated in less than six months, a record, considering that Singapore's current record for finishing FTA negotiations is 21 months, with Turkey.
While the FTA negotiations with China have been dragging for some time, the new FTA with India, which is based on an older, controversial agreement, was also expected to be negotiated in record time.
It is not unusual for FTA negotiations to take over five years.
Mohan said that every possible eventuality arising out of an FTA needs to be discussed exhaustively.
"Once the power brokers have decided to get into agreements, we technocrats have to pick up every possible thing that could go wrong and discuss it," he said.
The Chinese and Indian FTAs have drawn heavy resistance locally, mainly from protectionist nationalist elements, which have claimed that the agreements would leave Sri Lanka at a disadvantage.
A section of trade economists in Sri Lanka argue that the country's FTAs are negotiated mainly for geopolitical purposes and lack strong dispute resolution mechanisms and exit strategies.
Arguments are instead made to reduce tariffs and improve domestic trade facilitation to create a positive step towards free trade, as opposed to FTAs, which are a regressive step towards free trade due to the discouraging of trade from other states, which may currently or in the future have potential for more competitive production processes, thereby promoting misallocation of resources.
However, Mohan predicted that these agreements could be just the start of Sri Lanka negotiating multiple pacts with India and China.