---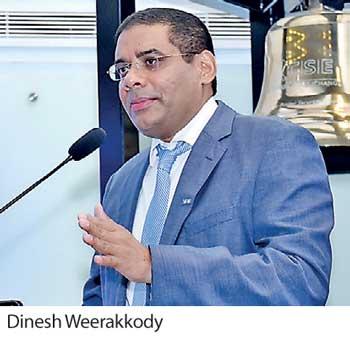 By Shabiya Ali Ahlam
World largest business association, the International Chamber of Commerce (ICC) has pledged its fullest support to help revive Sri Lanka's business community which were impacted overnight following the 21/4 incident, the agency's local chairperson said yesterday.

"The ICC expressed their concern on the situation of the country last week when we attended the world council event. They have pledged their support to Sri Lanka and even made a commitment in financial terms to our cause," ICC Sri Lanka Chairman Dinesh Weerakkody said while addressing its members and the media at the Colombo Stock Exchange (CSE) yesterday morning where the trading bell was rung to mark the Chamber reaching its centenary mark globally.
Weerakkody pointed out that ICC Sri Lanka is looking forward to working closely with the CSE to jointly open doors for local businesses so that they will be able to explore new opportunities to progress.

Pointing out the relevance of the ICC world council's theme, it is imperative for businesses to work with the government to ensure peace and security of the country.

"The can no longer keep away from the government and they need to be more assertive. As businesses we have a role to play and the ICC is at the forefront of this," stressed Weerakkody.

Reflecting similar sentiments, CSE Chairman Ray Abeywardena noted that the mandate of ICC in Sri Lanka is important now more than ever as the country is tasked with rebuilding and emerging from what has been a challenging past couple of months.

"The active engagement of ICC Sri Lanka on global networks is important to create a positive perception of Sri Lanka amongst the international community and to restore the confidence among our international trade partners," expressed Abeywardena at the bell ringing ceremony.

The ICC is the largest, most representative business organization in the world. Its 6 million members in over 130 countries have interests spanning every sector of private enterprise.
ICC has three main activities: rule setting, dispute resolution, and policy advocacy. Because its member companies and associations are themselves engaged in international business, ICC has unrivalled authority in making rules that govern the conduct of business across borders.