---
The Lakshman Kadirgamar Institute of International Relations and Strategic Studies (LKI) will host an inaugural lecture by Dr. Ganeshan Wignaraja on 'A Recovering Global Economy? The Dynamics of China and India in the Future of Global Growth.'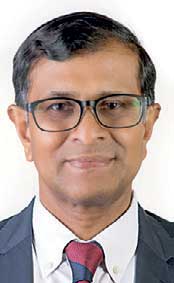 This event will be held on October 31 from 4.30 p.m. to 6:00 p.m. at the Lighthouse at LKI, 24 Horton Place, Colombo 7.

The event will commence with the lecture, which will address several key questions, including (i) the role of reforms in China and India's growth, (ii) the possibility of India catching up with China, (iii) the challenges that lie ahead for these major economies, (iv) how Europe and the US could prepare for a multipolar world economy, and (v) how Sri Lanka should navigate these uncertain economic waters.
The lecture will be followed by a panel discussion featuring local and international experts including Dr. Harsha De Silva, Deputy Minister of National Policies and Economic Affairs; Dr. Indrajit Coomaraswamy, Governor of the Central Bank of Sri Lanka; Dr. Sarala Fernando, former Ambassador of Sri Lanka; and James Crabtree, Visiting Senior Research Fellow at the National University of Singapore and Contributing Editor to the Financial Times. Participants will include policymakers, scholars, and representatives from the private sector, think tanks, civil society, students and the media.Commenting on the forthcoming event, LKI's Executive Director, Dr. Dinusha Panditaratne, noted that the event is "a timely opportunity to reflect on the evolving strategies of Asia's two economic giants, and how these will affect Sri Lanka's own future and the success of its new Vision 2025 plan."

Dr. Wignaraja has published widely on issues of economic development and the regional integration strategies of China and India.

In addition to being the Chair of the Global Economy Programme at LKI (supported by Dilmah), he also serves as a member of the Task Force on Freedom of Navigation in the Indian Ocean (chaired by the Prime Minister), and of the Monetary Policy Consultative Committee of the Central Bank of Sri Lanka.

His experience over the last 25 years has spanned the private sector, international organisations and academia, in both the UK and Asia. Prior to his appointment at LKI, he held senior roles at the Asian Development Bank and Maxwell Stamp PLC, and has worked for the OECD in Paris, the Commonwealth Secretariat, and the University of Oxford.

LKI is a think tank that analyses Sri Lanka's international relations and strategic interests, to provide insights and recommendations that advance justice, peace, prosperity and sustainability.

The Institute reflects the vision of the late Lakshman Kadirgamar by promoting the country's intellectual profile in foreign policy research and engagement. More information about the event is available at www.lki.lk.