---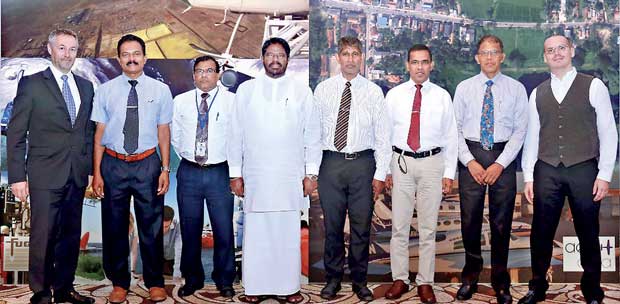 From left: Laurent Pronier Director Commercial, Fugro Geoid SAS, Eng. D C S Elakanda – CRIP Project Director, Eng. R M W Ratnayake, Secretary – Ministry of Irrigation and Water Resources Management, Minister Vijithamuni Soysa, P M P Udayakantha – Surveyor General of Sri Lanka, Eng. S.S.L. Weerasinghe, Director General of Irrigation, H.M.C. Nimalsiri, Director General - Civil Aviation Authority and Matthieu Lefebvre, International Sales & Business Development Manager, Aerodata International Surveys BV
One of the more critical stumbling blocks in Sri Lanka's development journey are the climate-related hazards which pose a significant threat to the country's economic and social progress.
Threats such as water scarcity, water excess, inter-seasonal variability of monsoons, droughts, decrease in energy security, increase in temperature, rising sea-levels and instability in agricultural production are some of the serious ripple effects which affect Sri Lanka and the South Asian region as a result of climate-related hazards.
There has never been a more urgent need for a comprehensive climate risk management programme to minimise economic losses and mitigate ensuing risk in order to make Sri Lanka resilient to these changes.
Funded by the World Bank, the Ministry of Irrigation's Climate Resilience Improvement Project (CRIP) is a programme aimed at implementing urgent disaster mitigation activities and to carry out a comprehensive study in 10 selected basins to mitigate the impact of floods and droughts. Since a high resolution Digital Elevation Model (DEM) is required for this purpose, LiDAR and Aerial Photography surveys on selected river basins were carried out.
The two contracts for Lidar surveying and the aerial photography surveying for the project were awarded to Fugro GEOID SAS and Aerodata Int. Surveys, respectively, both internationally established technological leaders in the field.
The two projects were recently presented to key stakeholders under the patronage of Minister of Irrigation and Water Resources Management Vijithamuni Soysa. Also present were Secretary of the Ministry of Irrigation and Water Resources Management Eng. R M W Ratnayake, Project Director Eng. D C S Elakanda, Surveyor General P M P Udayakantha.
Aerodata International Surveys BV was represented by its International Sales & Business Development Manager M. Matthieu Lefebvre while Fugro Geoid SAS was represented by its Commercial Director M. Laurent Pronier.
Two key areas under the first component of the CRIP project are Lidar survey and an aerial photography survey, which will gather the necessary data required in order to determine the remedial action to be taken to improve the country's resilience to climate-related challenges.