---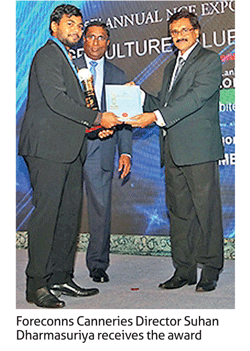 Foreconns Canneries, a leading exporter in food items with authentic Sri Lankan delicacies, was recently bestowed the Gold award in Value-Added Agriculture sector, Medium Scale, Canned and Processed food sub category, at the NCE Awards 2017 ceremony organised by the National Chamber of Exporters.

With exports to many countries including Australia, Germany, Italy, Japan and the UK under the trusted brand name Foreconns, the company is the first fish canning factory in Sri Lanka approved by the European Union to export fish-based products. It possesses SLS, ISO 22000 and HACCP standards certifications. Foreconns Canneries has been one of the proud recipients of the NCE awards continuously since 1998.

Foreconns offers a range of local dishes including fish 'ambulthiyal', fried dry fish and Sri Lankan curries and dishes such as jack, 'polos', breadfruit, cashew, 'katta sambol', 'seeni sambol', brinjal 'pehi', chutney and much more. Precooked and canned fried rice (chicken, fish and vegetable) are also within its product portfolio.

With global standard food processing in place, these products have a shelf life up to two years. Founded in 1989, Foreconns Canneries is committed to customer satisfaction by offering high-quality products and continuously focusing on researches in product development.