---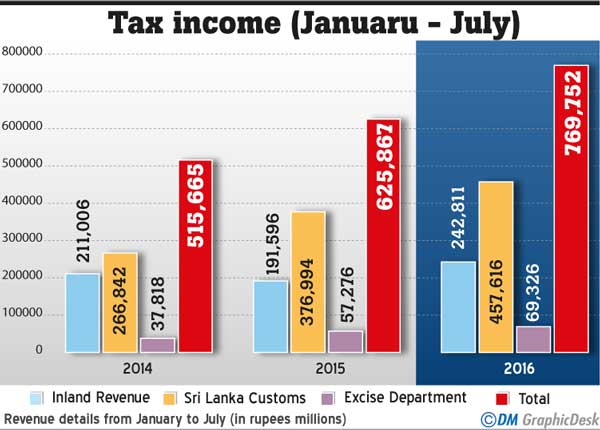 Sri Lanka has been able to increase tax
income by 23 percent or Rs. 143.8 billion to Rs. 769.7 billion in the first seven months of the year owing to the introduction of an efficient tax collecting mechanism, the Finance Ministry in a statement said.

The statement said the revenues had been generated from the Inland Revenue Department, the Excise Department and the Sri Lanka Customs Department.Sri Lanka Customs saw its income increasing 21.5 percent in the first seven months compared to the same period of the previous year
to Rs. 457.7 billion.
The Department of Inland Revenue saw its income in the first seven months of this year increasing 26 percent from the previous year to Rs.242. 9 billion.
Meanwhile, the Excise Department increased its income by 21 percent to Rs.69.3 billion.
"The three departments were able to increase their revenue during this period due to the implementation of an efficient mechanism by the government to properly collect import duty and tax revenue, and constant operations against selling illegal liquor," Finance Minister Ravi Karunanayake said.

Sri Lanka reduced its government revenue target for 2016 due to tax amendments in this year's budget.

Karunanayake recently told parliament that this year's total revenue is now expected to come to Rs1.87 trillion, 8.2 percent less than the originally forecast of Rs2.03 trillion.
The government's revenue in 2015 stood at Rs.1.41 trillion.