---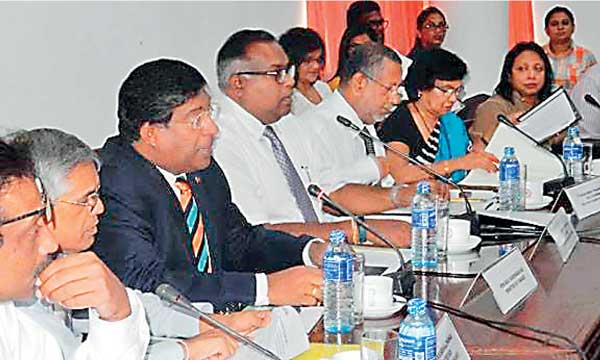 Finance Minister Ravi Karunanayake met with the committee members of the Ceylon Chamber of Commerce (CCC) recently to obtain their views on the upcoming budget presentation.

The discussion was chaired by CCC Chairman Samantha Ranatunga. During the discussions, each committee member was given an opportunity to express his or her views on the upcoming budget and also raise sector-related issues.

Accordingly, they brought to the attention of the minister several issues plaguing the growth of sectors such as agriculture, taxation, real estate, non-banking, transportation, apparel and confectionery, among several other areas.
Karunanayake in response said that the government will look into the issues raised by the chamber's committee members and resolve them, if it affects the growth of the mentioned industries.
He also urged the private sector to work closely with the government and utilize the services offered by the newly established private sector unit of the Finance Ministry, which the minister feels is not done adequately.

Ranatunga thanked the minister for coming forward to listen to the views of the business community. The meeting took place at the CCC. Senior treasury and chamber officials were present during the meeting.
The CCC committee, which consists of top corporate executives of the country, gathers once a month to discuss the status of the country's economy and the chamber's role in shaping its direction.