---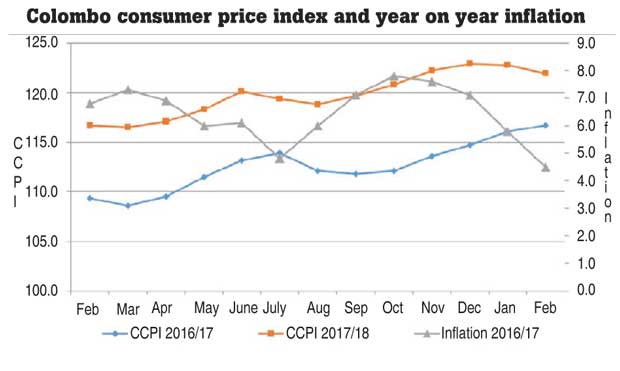 Sri Lanka's headline inflation, which consists of all items in the basket of Colombo Consumer Price Index (CCPI) eased to 4.5 percent during the 12 months to February from 5.8 percent in January over the base effects and lower food prices.

February marked the easing of inflation for the fourth consecutive month since the index rose to 7.8 percent in October 2017.

February's inflation is also the lowest since 4.5 percent reported for December 2016.

On a month-on-month (MoM) basis, the headline inflation fell 0.7 percent, from just 0.1 percent in January, the biggest MoM contraction since August 2016.
Sri Lanka's prices were rising since then due to higher credit growth, currency collapse and adverse weather conditions, which negatively affected the harvesting seasons driving the prices of rice and vegetables higher.

Meanwhile, the so called core prices, which measure the inflation barring the volatile items such as food and energy, rose by 3.5 percent in February, unchanged from January.

However, on a MoM basis the rise in core inflation eased to 0.2 percent, from 0.6 percent increase in January.

The food inflation eased by 2.9 percent in February from 1.9 percent in January as the Maha harvesting season stocks have started coming into the market.
The prices of many varieties of rice and vegetables declined from January easing the food prices in February.

The increase in the non-food prices moderated to just 0.1 percent from 0.8 percent in January.

Prices in the transport sub-category declined due to ease in prices in airlines and related costs.

How airline cost becomes a sample in the CCPI basket defies the index's relevance in measuring the common man's inflation.

Or else, Sri Lankans now travel abroad more often which warrants its entry into the CCPI basket.

However, the cost of three-wheel fares declined, off-setting the impact of increase in airlines and related costs.

Prices of other non-food items in the basket such as clothing, utilities, household maintenance, and education rose.

Meanwhile the CAL Urban Price Index—a monthly measure of prices in urban cities by Capital Alliance— rose by 5.5 percent during the 12 months to February from 4.1 percent a year ago.

"Food and beverage prices decreased 3.1 percent MoM during February, while water, transportation, energy and communication remained flat. During the last 12 months, F&B increased 7.8 percent YoY, water, transportation and communication increased 6.0 percent YoY and energy increased 1.2 percent YoY", CAL said.
At present, the Central Bank is facing a dilemma whether to cut rates to boost economic growth or keep the status quo, as a rate cut could stoke inflation when the rupee has come under pressure.