---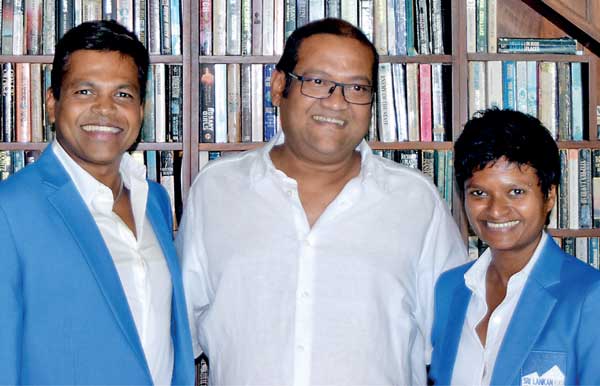 Johanne and Jayanthi with Fairway Holdings Chairman, Hemaka De Alwis
Jayanthi Kuru-Utumpala and Johann Peries, the two intrepid mountaineers from Sri Lanka, are approaching the Death Zone – literally.

The Death Zone is mountaineering shorthand for altitudes above 28,000 feet where the human body uses more oxygen than it can extract from the air putting huge stresses on the minds and bodies of climbers and causing extreme fatigue. As the first Sri Lankans attempting the 29,000 feet Everest summit the odds against them are formidable. The rapid onset of extreme weather such as storms and blizzards mean that less than 30 percent of climbers taking on Everest have reached the summit despite having supplemental oxygen tanks.

Even in the best of weather conditions the Khumba Ice Falls at a pedestrian 19,000 feet is one of the most dramatic and dangerous parts of the trek. The continuous movement of the Khumba glacier creates a maze of shifting ice which opens treacherous crevasses from below the ice floor or without warning dislodges tons of ice avalanches from high up the slope.
The crevasses which are sometimes as deep as 10 stories are crossed using aluminium ladders. Both have safely ascended the Khumba Ice Falls to reach Camp II and completed their acclimatizing rotations between the based camps. They now have a nail biting wait for the best weather window to make the grueling final dash from base camp IV up to the summit and back – and make history as the first Sri Lankans to reach the Everest summit.

As a special event to support Jayanthi and Yohan a screening of the film Everest took place at the National Film Corporation recently. This film, based on a true story, brings to life the extreme and treacherous conditions that prevail around this icy, windswept mountain peak that has been unattainable for all except the extraordinary few. All the people who took part in this expedition died except for a loner who lived to tell the tale. It is a tale of intense courage, endurance and the will to live as man pits himself against the most grueling conditions on the planet.
The screening was organised by Fairway Holdings, the "Summit Sponsors" of the Sri Lankan Everest Expedition, to support and celebrate Jayanthi's and Yohan's spirit of adventure and endeavour. Fairway Holdings is committed to helping extraordinary Sri Lankans pursue their extraordinary dreams in various arenas of sport, arts and culture.
The Everest Expedition Team wish to thank their sponsors: Summit Sponsor - Fairway Holdings; Airline Partner - Sri Lankan Airlines; Base Camp Sponsors - Seylan Bank, Sri Lanka Mobiltel Telecom, and Janashakthi Insurance; and Gear Sponsors - SEALs, Petzl and Victorinox.