---
Fadna Shape Up Tea, the perfect solution for a dream figure, will celebrate its 10th year anniversary as the market leader in Sri Lanka since 2007.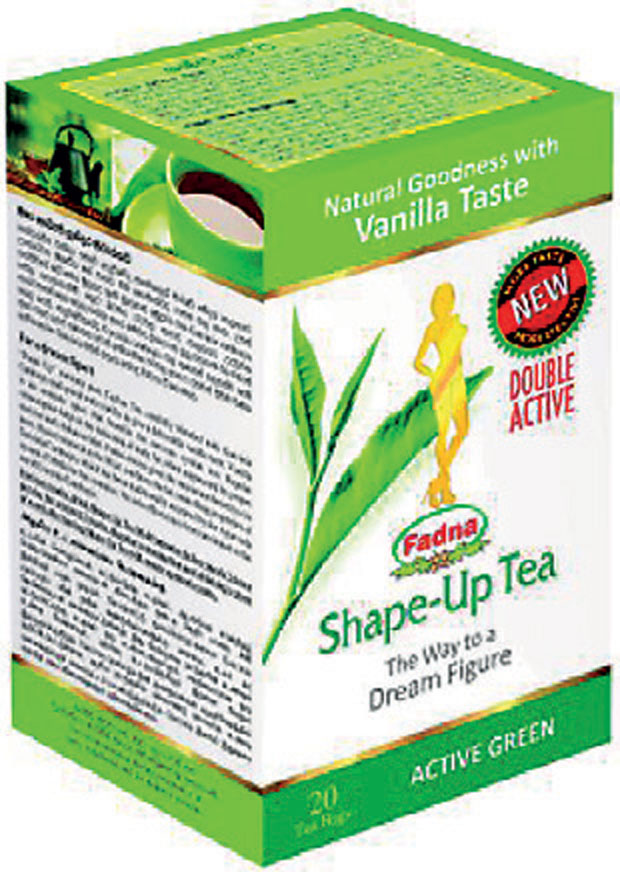 The product which has won the hearts of thousands of satisfied users around the globe, continues to 'shape-up' people who are in search of a dream figure. A number of independent surveys have been revealed that Fadna Shapeup has maintained its promise as the leader of the green tea category in the market and it was mainly due to its benefits and the trust the users have kept on this revolutionary products.

Fadna Shape Up Tea Double Active contains active ingredients which help weight reduction and has clinically proven to decrease the blood cholesterol levels. It also controls excessive appetite and eventually helps control obesity.

Fadna Shape Up Tea Double Active is a wonderful combination of Sri Lanka's finest green tea, carefully blended with Goraka (Garcinia Cambogia) and spiced with vanilla, creating a miraculous combination which helps reduction of body fat. The scientifically proven combination doubles the efficiency that ordinary green tea has, thus creating the double action effect which is trusted by consumers around the world.

Fadna Shape Up Tea Double Active is manufactured using the latest technology and finest ingredients under best hygienic conditions and that has earned it a number of international certifications, including the ISO 22000, HACCP and GMP Certification for hygiene, awarded by the Sri Lanka Standards Institution.

It is also certified by the Department of Ayurveda at Ministry of Indigenous Medicine of Sri Lanka and the authorities have also confirmed that this herbal tea can be consumed without a prescription and is suitable for general use. Fadna Shape Up Tea Double Active is manufactured by Food and Nature Private Limited.

which also presents Fadna X Tea, Ranawara Tea, Green Tea, Ginco Tea, Cinnamon Tea, Cooling Tea, Belimal Tea, Diabe Classic Tea and Tummy Tea, helping everyone to 'shape-up' easily without any harmful side effects or complications.

Consumers can check out for more details and purchase Fadna products online through their official web site www.fadna.com and products will be delivered to your doorstep free-of-charge.