---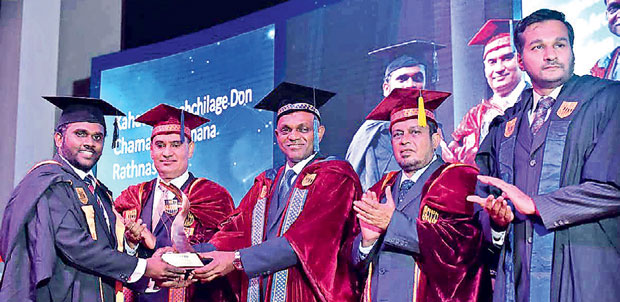 The Federation Award for the Most Outstanding University Student (FAMOUS) has been offered by the Federation of Information Technology Industry Sri Lanka (FITIS) at the Sri Lanka Institute of Information Technology (SLIIT) convocation held recently at the SLIIT auditorium.
FITIS offers FAMOUS annually to the most outstanding student in information systems and networking at the SLIIT convocation. The winner of FAMOUS also received a cash award.
"We understand that it is our responsibility to encourage universities and students to excel in their education as the country needs top-quality ICT professionals. We, being the Federation of IT Industry, representing over 200 active commercial organisations in the IT industry, feel the importance of human resources where both quantity and quality are equally important. We are happy to be with SLIIT as the biggest producer of talented ICT professionals," said FITIS Software Chapter Immediate Past President Abbas Kamrudeen, attending the convocation.
FITIS has many initiatives to recognize young ICT talents. Young Computer Scientist Competition, FITIS Youth Club, Innovation Pavilion at Infotel National ICT Exhibition, etc. and the FAMOUS are some of them.
Established in 1994, FITIS acts as the nucleus of five industry associations of the ICT industry, namely Sri Lanka Association for the Software Industry (now known as the FITIS Software Chapter), Sri Lanka Computer Vendors Association (now known as FITIS Hardware Chapter), Association of Computer Training Organisations (Training Chapter of FITIS), Lanka Internet Service Providers Association (FITIS Telecom Chapter) and ISACA Sri Lanka Section.
With a cumulative membership of over 200 active business firms in the ICT industry, FITIS is committed to foster a healthy growth of the industry focusing on resolving policy issues, lobbying with state authorities, co-operation and alignment with regional and global industry bodies and promoting harmony and innovations within the ICT industry.