---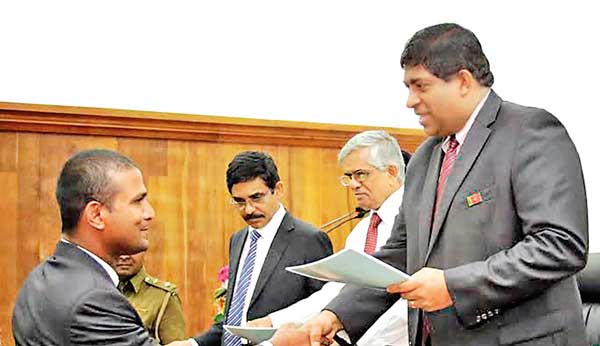 Finance Minister Ravi Karunanayake handing over an appointment letter to a new officer recruited to the Excise Department
The revenue collected by the country's Excise Department rose over 100 percent to Rs.105 billion in 20015 compared to the Rs.42 billion collected in 2014, Finance Minister Ravi Karunanayake said. With this improvement i n r e v e n u e c o l l e c t i o n , Karunanayake expects the Excise Department to collect Rs.200 billion in revenue this year.
Karunanayake attributed the absence of political influence to this achievement in the affairs of the Excise Department by the good governance regime. The Minister said this at a ceremony held recently to hand over appointment letters to 46 officers recruited to the Excise Department, at the Randora Auditorium, Ministry of Finance. Karunanayake further said when his government came into power on 08th January 2015, there was a debt of Rs. 118800 crores not paid by the Rajapaksa regime and that the new government had to pay, and the problem worsened with the global economic crisis.
Excise duties on liquor products were significantly increased in October and November last year. Taxes on strong beer increased 70 percent while taxes on spirits increased 24 percent from October 2014 to November 2015.