---

The Evoke team
Evoke International is a 360-degree mobile service solutions provider, offering telecom operators a business enhancing 'Value Added Service' (VAS) that keeps them top of mind and current.

Their partnership with South East Asia's Mobile Entertainment and VAS giant Hungama Digital Media Entertainment (Pvt.) Ltd. Is leading the market in India and has enabled them to stay ahead of the game when it comes to VAS in Sri Lanka.

Speaking at the event of their ninth anniversary, Evoke International CEO Lahiru Wickramasinghe said, "We are delighted to partner with globally recognised companies like Hungama to provide our partners with the best value additions in the market. Our partnership with Hungama spans over five years and is growing from strength to strength. At Evoke we have set the benchmark in providing VAS products to the public through telecom sector by being able to change our business model to accommodate the needs of our partners as and when technology progresses and to identify what the market needs. We have an in-house team of professional developers who further strengthen our vision. This also allows us to evolve, manage and distribute a cross section of content to a growing market that is increasingly becoming tech savvy."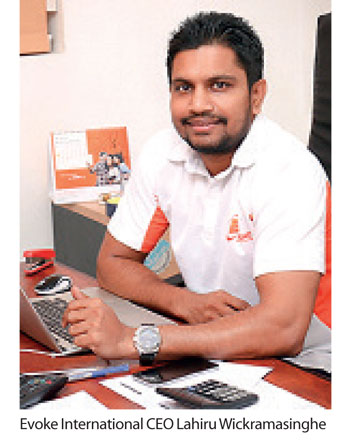 In celebration of the ninth anniversary, Evoke International has created a range of new platforms for the movie and music industry of Sri Lanka. Lahiru further added, "Our objective of creating local movie and music platforms are to cater to the enthusiasts and to create opportunities for the local entertainment industry, ensuring that our industry grows in line with the international standards when it comes to entertainment. Currently, we have a selection of international artists on our platforms and we are hoping to facilitate both old and new Sri Lankan artists to ensure our entertainers have equal opportunity to be present in new technology spheres."
Established in 2007, Evoke International enjoys a market share of 60 percent - 65 percent in Movies, Music and other types of content. Their product portfolio includes products in Voice, Data, WAP and APP platforms, ensuring all local operators are able to provide content that is in line with what their consumers want. In 2016 Sri Lanka Telecom PLC launched the very first OTT platform in Sri Lanka in collaboration with Evoke International and Hungama Digital Media Entertainment (Pvt.) Ltd".

Evoke International, is one of Sri Lanka's premier VAS solution providers that deliver solutions and systems that aim to bring about prevalent business enhancements to its clients, via access to an extensive range of expertise in the domain of innovative, effective and expedient VAS. They have made their mark for its innovative service delivery, of superior quality and vast entertainment content portfolio ranging from the very latest to the renowned classics in both movies and music; the services offered by Evoke International have proved to aid in the propelling of the mobile service market and entertainment industry.