---
Allocates Rs.5bn to reimburse interest subsidy to banks
Instruct State banks to open 'Enterprise Sri Lanka' counters
Women entrepreneurs to receive extra credit support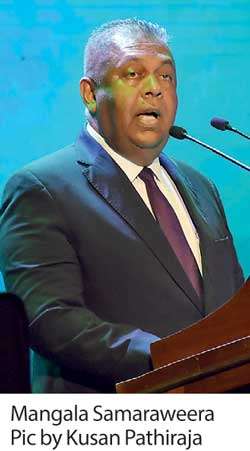 Launching the 'Enterprise Sri Lanka: Entrepreneurs Paradise Loan Scheme' last Friday in Colombo, Finance and Mass Media Minister Mangala Samaraweera said entrepreneurs would be the engine of growth of the new economy which the government wishes to create.

He said the launch of the credit scheme would be a spring board for empowering entrepreneurs and creating a strong and sustainable economy for Sri Lanka.
The government expects to disburse Rs.60 billion through State and private banks to would-be entrepreneurs and another Rs.5 billion has been set aside by the Treasury to reimburse the interest subsidy to the banks.

Meanwhile, Samaraweera said Bank of Ceylon, People's Bank and other development banks have been instructed to open up dedicated 'Enterprise Sri Lanka' counters starting July 1, to facilitate prospective entrepreneurs.
He also said banks have been instructed to look at project proposals of future entrepreneurs holistically and help them to further develop such proposals to gain financial viability and thereby effectively end the era of sending them back without even looking at their proposals.

Samaraweera pointed out that the loan scheme would help the youth who couldn't pursue higher education due to various reasons.

Only about 25, 000 students gain admission to State universities each year, and more may opt for private universities and vocational training. But still, there is quite a large youth population to be guided and empowered as small and medium scale entrepreneurs.

Samaraweera pointed out that many other countries have developed similar programmes targeted at developing entrepreneurs, which have created jobs and contributed to the national economy.

The key sectors that are covered under the loan scheme will be: agriculture, fisheries, dairy, handicraft, apparel and tourism.

Meanwhile, Samaraweera said women and differently-abled entrepreneurs will receive further 10 percent interest concession on their loans in addition to general concessions all other entrepreneurs get under the loan scheme.

"When we talk of empowering women, what we had was to give them a sewing machine and direct them towards self-employment. But, women have the same capacity as men to run and manage a business. They should be given their rightful place in the economy," Samaraweera said.