---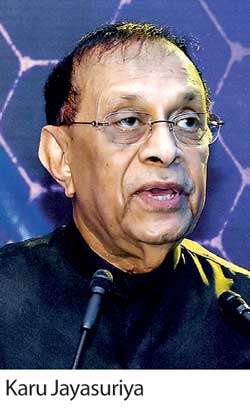 By Nishel Fernnado
Speaker of Parliament, Karu Jayasuriya asserted that leaders who ensure the rule of law coupled with the right vision, dedication, commitment, discipline is critical for Sri Lanka to reach its full economic potential.

"What the country needs now is the right vision, dedication, commitment, discipline, ensuring rule of law coupled with right people at the right place," he stressed. Jayasuriya was the chief guest at 'Best Corporate Citizen Sustainability Award 2018' organised by Ceylon Chamber of Commerce (CCC) last Monday.

He noted that Sri Lanka has tremendous potential for growth and prosperity, particularly due to its strategic location. However, he pointed out that there are developed cities in the world which have populations above 21 million governed by mayors, not by presidents or prime ministers or speakers. Speaking of the series of events that unfolded in parliament following the political crisis, Jayasuriya said that as the Speaker of Parliament, he had to go through physical attacks, chilli power attacks, threat to life, insults and so much of obstruction for having stood-up for what's right.

"I consider it was my duty to stand up against all forms of threats to democracy and save it for the generations unborn. You know the value of personal freedom in a civilized country," he said. Commenting on the sustainability initiatives by the private sector business community, Jayasuriya commended the corporates who have taken the initiative to not only do away with community/environment degrading practices, but also to mitigate damage that has already taken place, and enhance the wellbeing of the environment and society.
"It takes innovative thinking, bold leadership, and dedicated teams to implement responsible practices in day-to-day management processes, which are in line with achieving the UN Sustainable Development Goals," he said.

He stressed that the private sector contribution is vital to realise the national objectives initiated by the government and invited the private sector to play a greater role in the country's development process.

"I encourage the private sector to undertake this responsibility to a greater extent, and align along with national policies. And I hope to see more corporates embracing the SDGs as a core element of their processes," he added.

He noted that Sri Lanka at a crucial juncture in its economic journey at this moment as the country is increasingly focusing on its transition to an upper middle-income country by overcoming long-term development challenges.

"By focusing on rural development and social protection, Sri Lanka aspires to ensure that everyone can enjoy the benefits of development," he said.