---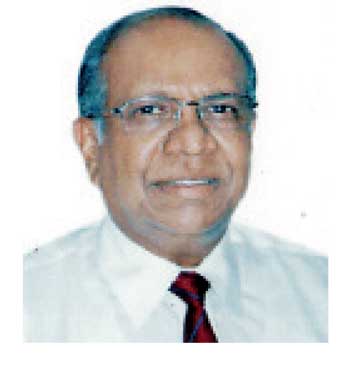 First coined in 1987 by the World Commission on Environment and Development (WECD) or the 'Bruntland Commission', the term 'sustainable development' was defined in its report as:
'Development that meets the needs of the present generation without compromising the ability of future generations to meet their own ends'.

The term however, is not a new concept. In Sri Lanka, it dates back to over 2000 years when developmental approaches of our ancient monarchs, in relation to the biosphere in particular, mirrored today's concept of sustainability.

In this broad context of sustainable development, the primary indicators of a sustainable enterprise should demonstrate a readiness of an enterprise to take account of a broader 'bottom line' than only financial profit, says former International Labour Organisation Senior Specialist on Employer Activities for South Asia and former Employers' Federation of Ceylon (EFC) Director General
Gotabaya Dasanayaka.

Dasanayaka will be making a presentation on 'Sustainable Enterprises and Employment Practices' at the annual EFC symposium, which will unfold on November 8, at Cinnamon Grand.

This year's symposium is aligned with the theme of 'Sustainable enterprises - Creating value'.
The challenges facing Sri Lanka in developing sustainable enterprises are many and formidable at the same time, remarks Dasanayaka. He stresses on the need for an 'adequate legal framework' and an effective enforcement mechanism as fundamental in this respect.

"As a developing country, we can be pleased with some of the progressive pieces of legislation we have in terms of corporate governance, labour and environment and as of late, right to information but numerous issues pertaining to enforcement of these laws have undermined their value and effectiveness."

Political will, strong and inclusive, independent institutions coupled with a competent public sector are imperatives to give meaning and muscle to the existing laws, he adds. Sustainability is a core issue to enterprises today and aspects relating to business and the environment are inseparable. Environment for this purpose is not limited to the biosphere but also includes the social environment, which encompasses all stakeholders such as shareholders, employees, customers, suppliers and the community within which an enterprise operates.

"For a business to progress and thrive it can no longer ignore the impact it has on all such stakeholders. This is very much so in relation to 'access' to global markets," he notes, citing numerous bilateral and regional trade agreements in the world, UN initiatives such as the 'Global Compact', the countless Business Codes of Conduct, both voluntary and otherwise that seek compliance with basic values in relation to the 'triple bottom line' principles and which drive global markets today.

"This may explain why CSR is now viewed as a key 'corporate strategy' and not a mere voluntary initiative," he says further.

With Sri Lanka now being a middle-income country and a possible investment hot spot in Asia, the challenge to place itself as a nation advocating sustainable enterprises becomes even more daunting given the 'middle-income trap' which looms over us.

"Researchers have analysed that middle-income countries find it extremely challenging to compete with low-income, low-wage economies in manufactured exports on the one hand and to compete with high-income advanced economies in high skill innovation on the other.

They also point out that the 'middle-income trap' reflects a productivity slowdown as economies exhaust the gains that moved them into the middle-income status. Hence, it is imperative for Sri Lanka to focus on productivity improvement, which requires among other aspects, better education, higher skills development and improved research and development strategies, notes Dasanayaka.
Dasanayaka sees the role of the EFC in promoting sustainable enterprises for sustainable development as a two-pronged one. At national and sector level, it needs to engage in advocacy and lobbying to influence its counterparts, particularly the trade unions, in building consensus on critical issues and also in influencing policymakers in shaping national policies for sustainable development.
Second is the role in building awareness among enterprises on sustainability issues through advice, training and other initiatives. Dasanayaka says, "The EFC over the years, especially since Sri Lanka opened its economy in 1978, has played its role effectively in both these areas and this year's symposium on sustainable enterprises is a good example of its progressive approach."