---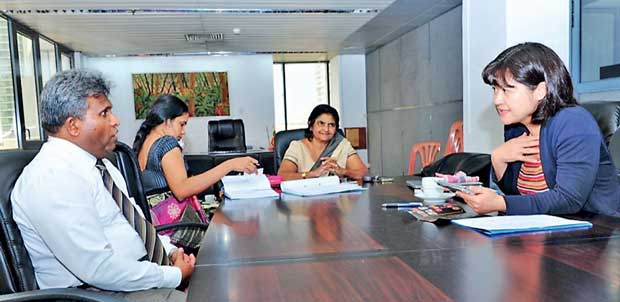 Officials of the EDB met the representative of Aeon Topvalu Co. Ltd. retail giant of Japan at the EDB recently.

Aeon Topvalu Co. Ltd. (Aeon) is a multi-format retailer store based in Japan. 'Topvalu' is an Aeon's private brand which is developed reflecting the customers' varies carrying over 6000 items of food, clothing and housing necessities.

The company operates supermarkets, general merchandise stores, discount stores, home centers, supercenters, department stores, convenience stores and specialty stores and it is a well-established enterprise in the Asian region.

Sri Lanka mission in Japan requested the EDB to co-ordinate the visit by arranging B2B meetings with Sri Lankan exporters. Yuka Yamazaki, one of the merchandisers of Aeon visited Sri Lanka with pre-identified potential grocery items such as pre-mix tea, fruit drinks, kitul products, spices, cereals, milk powder, condensed milk etc. to be sourced from Sri Lanka to sell in their super market stores.
Accordingly, the EDB arranged B2B meetings with Milco (Pvt.) Ltd, Jagota Agro Products, Lanka Canneries (Pvt.) Ltd, Mas Tropical Food Processing (Pvt) Ltd, Ausee Oats Milling (Pvt.) Ltd., Mabroc Teas (Pvt.) Ltd, Expo Lanka (Pvt.) Ltd, Ni – Cey International (Pvt.) Ltd, etc. After discussions she agreed to visit their processing plants during her next visit to Sri Lanka and she has shown an interest to purchase a few grocery items from Sri Lanka.

The EDB and Sri Lanka Embassy in Japan are following up to promote businesses with Aeon.