---
There is an ever-growing demand for hair colour products among youth and elderly people and Sri Lanka's premier cosmetics brand and the largest exporter of hair and skin cosmetics, Dreamron has been the saviour of many who are looking for quality products to get rid of their 'gray-hair problems'. Catering to the needs of many, Dreamron introduced the Dreamron Five Minute Black Henna and it has become the number one choice of thousands, mainly due to its outstanding features and ease of use.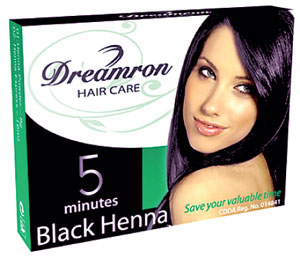 The product has been well received by clients both home and aboard and has made its presence felt by becoming the most sought-after hair colouring product within a short span of time.
Having gray hair is a common occurrence to almost everyone especially at the adulthood stage.
Hair has a tendency to lose its natural colour with advancing age and turn grey but premature greying is a morbid condition and it makes even the young look older. Dreamron Five Minute Black Henna is the best solution for those who are having gray or white hair. It will transform gray hair into shiny black in just five minutes, making you look younger instantly. It is really a time and money saving solution.
Dreamron Five Minute Black Henna incorporates the goodness of nature and the herbal ingredients and will not harm the hair and scalp while the dyeing effect gives a natural and shiny look.
It also conditions hair adequately thereby preventing the hair from drying, making it shiny and lustrous. Regular usage would also give healthier, younger and thicker hair.
It contains ingredients that customers look for as it doesn't contain any harsh chemicals unlike similar products available in the market. This is a non-toxic product and is best for all types of hair.
Dreamron Five Minute Black Henna is manufactured with natural ingredients imported from the United States and manufactured to meet the highest Japanese and the European standards of quality to give maximum safety for hair and scalp. Moreover, it has no unpleasant odour when mixing and applying.
The product is approved by CDDA and Sri Lanka Drug Regulatory Authority.
Other than Sri Lanka, this world-class product is also sold in India, Pakistan and Canada.
Dreamron Five Minute Black Henna is only one of many popular products which comes from the Deamron family, which is an expert with unparalleled understanding of local hair, has gradually become a leader and a trendsetter in the cosmetic industry in Sri Lanka.
Dreamon has introduced a wide range of beauty products that are used and trusted by millions in more than 30 countries.
Furthermore, it has made continuous efforts over the last 18 years as part of its ambitious growth plan to solidify its footprint both locally and internationally to achieve its future growth targets by increasing its production capabilities.