---
Expanding its presence in Sri Lanka, Domino's opened its 23rd restaurant in Boralesgamuwa on 21st December, amidst much fanfare and celebration.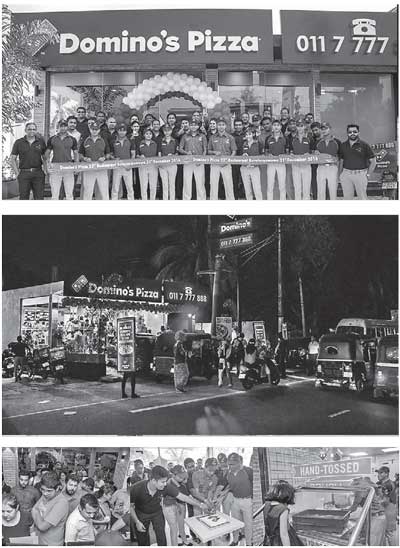 The new outlet is located in yet another bustling township in the suburbs of Colombo, with a growing population that constantly seek the delights of a cosmopolitan lifestyle in all aspects of daily living.
The new Domino's restaurant in Boralesgamuwa is located along the main road, a prominent and imposing presence accessible to large numbers of people travelling to and from Colombo to stop by for their favourite indulgent food at Domino's.
The inauguration of the new restaurant took place with the participation of the members of the senior management, which included Domino's Sri Lanka Country Head, Suresh Tissaarachchy and the team of young men and women servicing the Boralesgamuwa outlet. The event was also patronized by Alok Pande,Vice President, Operations, Domino's Pizza.The promising start to the new outlet was marked by a sense of team spirit that has steered Domino's from strength to strength, making its global presence as a leading pizza maker to be felt strongly throughout Sri Lanka.
Symptomatic of all Domino's restaurants in the country, the design and layout of the new restaurant displays the signature brick walls and graffiti laden interiors with an ambience that embodies non-flashy urban chic, a sleek arrangement of bright colours, combined with light shades, and with simple furniture in bold colours,it offers moments of fine dining for all ages.
It is definitely a hangout space for the young that have become the renowned pizza maker's leading customer base, who repeatedly seek the pleasures of multiple products offered at Domino's. The minimalist interior of the new outlet has an open kitchen, a place, where pizza artisans use master strokes to chisel a daub of dough into the most sumptuous pizza, as patrons gleefully watch the theatrics of nimble fingers.
Domino's Boralesgamuwa, like all other outlets, offers a range of pizzas in different flavours and sizes, including the new pizza range of Texas BBQ chicken, chicken teriyaki, Jamaican jerk chipotle, mighty meaty and pacific tuna melt, with appetizers like chicken fillers and the Dominos signature buffalo wings in three new varieties of BBQ, chili garlic and hot chili wings, along with potato wedges, garlic bread and desserts.
The Domino's restaurant in Boraesgamuwa is the place to visit to enjoy the exciting deals and discounts and promotions from a large selection of menu options in the days ahead, and the team at Domino's is ever ready to serve customers bigger and better, whether it is dine in, take away or delivery, the customer-friendly service is just a call away.