---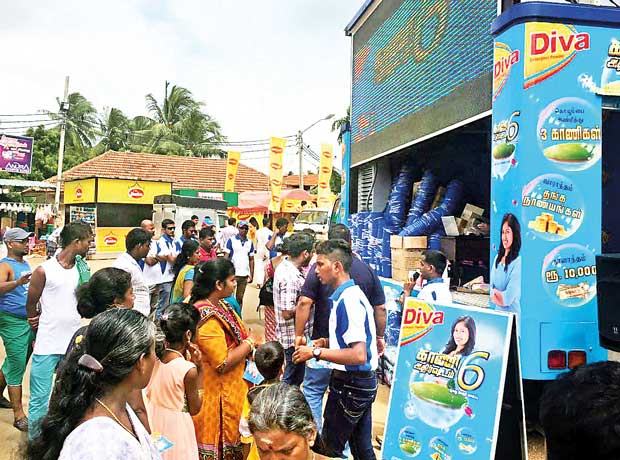 Diva, a celebrated brand of Hemas Manufacturing, heralded its sixth cycle of the extremely popular annual 'IdameVasanawa' campaign in Nallur, Jaffna.
As many devotees gather around Nallur, Diva commemorated the start of the IdameVasanawa campaign for the sixth consecutive year with highly engaging
consumer activities.
Diva's IdameVasanawa has changed the lives of many Sri Lankans throughout the past five years. As a result, annually loyal consumers await enthusiastically for its launch every year. Diva's annual mega consumer promotion campaign has been launched in different parts of the island, in the past years.
The activation campaign was successfully conducted over a period of two days and thousands of devotees visiting the temple received Diva products and many more exciting gifts. Reaching out to consumers islandwide, Diva activations will take place covering many areas in Sri Lanka.
"We constantly strive to drive consumer experiences building real relationships. Through the IdameVasanawa campaign we have contributed to shape life's journeys of the many land prize winners over the years. The massive response we continue to receive annually from consumers contributes towards the success of this unique campaign. It helps us engage with our loyal consumers forming a truly beneficial relationship," said Hemas Manufacturing Brand Manager Shanaka Fernando.
Consumers nationwide who wish to participate in the promotion need to send their entry with three Diva soap wrappers or a one kg washing powder packet via post to - P.O. Box 1289, Colombo.
Three valuable plots of land close to Colombo will be gifted this year too, beginning August to October, where monthly one lucky winner will be eligible for this magnanimous prize. Consumers also stand a chance to win gold coins on a weekly basis and valuable cash
prizes daily.
To date, 19 lucky winners have received 19 plots of land through the transformative IdameVasanawa campaign. Diva, as a brand continues to enrich the lives of many Sri Lankans, has presented over 500 gifts including cash rewards, gold coins, motor bicycles, etc., throughout
the years.
Diva has a range of washing powders including Diva Regular with a new and improved lime fragrance and Diva Flowers available in Sepalika, Rose and Jasmine variants.
Diva also has a collection of new and improved detergent soaps available in lime, lemon and jasmine fragrances.