---
Forecasts revenue slippage, impaired receivables as company extended credit to shelter- in-place subscribers
Dialog Axiata PLC stood broadly intact during the quarter ended March 31, 2020 at the operating level, but said future revenues could be lower and profits could be sour from possible non-repayment of customer dues as the company extended credit and deferred payment due dates to keep its customers connected throughout the shelter-in-place conditions.

Dialog, Sri Lanka's largest telecommunication group by revenue, reported a top line of Rs.29.2 billion for the quarter under review compared to Rs.28.9 billion in the year earlier period.
But on a quarter-on-quarter basis, the revenue declined by 1 percent as the initial disruptions to businesses came from mid-March.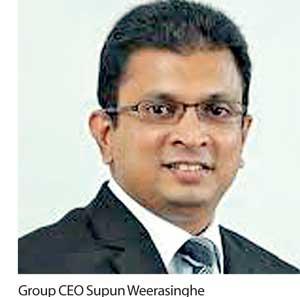 The company said its mobile operations, which accounts for 70 percent of the group revenue and 75 percent of earnings before interest, tax, depreciation and amortisation (EBITDA) has seen a decline of 2 percent from the same period last year, "due to ongoing shift in consumption behaviour from voice to data." The revenue from mobile operations for the period was Rs.20.2 billion. At the operating level, the group reported profit of Rs.4.2 billion compared to Rs.4.7 billion a year ago. Despite heavy use of its services during the COVID-19 lockdowns, the company says the pandemic is having a bearing on its financial performance.

"The continued lockdown and credit extensions to keep our subscribers connected, significantly impacted cash collections during the lockdown period, on both retail and enterprise fronts, leading to pressure on working capital.

To mitigate the impact of lower collections during this period, Dialog group has undertaken many initiatives to maintain liquidity and business operations uninterrupted," Dialog Axiata Group CEO Supun Weerasinghe said.
Further the global impact of COVID-19 pandemic has adversely affected Dialog's international business where inbound and outbound roaming contributed 2 percent of the group revenue in FY2019.

Going forward the company expects its revenue to be impacted and some receivables to be written off.

"Based on present trends, we expect an adverse impact on group revenue, impairment of trade receivables and health and safety related expenses. The group has resorted to aggressive cost rescaling and rationalisation initiatives both in operating and capital expenditure to soften the impact on the business," Dialog Axiata said in a note accompanying the interim results.
Meanwhile,the group reported earnings of 18 cents a share or Rs.1.49 billion for the three months ended March 2020 compared to 60 cents a share or Rs.4.9 billion in the year earlier period.

This is due to Rs.1.4 billion of net foreign exchange translational losses booked against the profit on account of the group's foreign loans. The group booked a gain of Rs.1.5 billion in the year earlier period.

However, the group estimates after tax profit at Rs.3.1 billion, normalising for the forex loss.

Malaysia based Axiata Investments (Labuan) Limited has 83.32 percent stake in Dialog Axiata, while Employees Provident Fund has 2.92 percent stake being the second largest shareholder.