---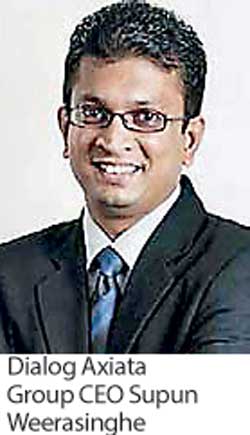 Strong mobile telephony business and lower forex losses put Dialog Axiata PLC's top and bottom-line performances at elevated levels during its December quarter, reflecting a trend where people have spent more on mobile data and voice than a year earlier.

Releasing the interim results for the 4Q17, Sri Lanka's leading mobile telecommunications group reported Rs.39 cents a share or Rs.3.17 billion in total earnings, an increase of 154 percent year-on-year (YoY).

Although the top-line growth and the cost management helped propel the bottom-line growth, the company said this performance was mainly driven by the relatively strong rupee remained during 2017 as forex losses were contained by a half. The net finance cost also declined by 54 percent YoY to Rs. 467 million.
The revenues rose by 8.8 percent to Rs.24.8 billion while the direct costs rose by less than one percent YoY to Rs.12.5 billion, reflecting the group's discipline in cost management and operational efficiencies.

Meanwhile, for the year ended December 31, 2017, the group which also runs fixed telephone and broadband operations and a pay TV subsidiary reported Rs.1.32 a share or Rs.10.8 billion earnings, a 20 percent YoY jump in the bottom line. This was on a revenue of Rs. 94.2 billion, up 8.7 percent YoY.

"The group profit after tax performance was driven by improved EBITDA and lower non-cash translational forex losses of Rs. 0.4 billion compared to Rs. 0.8 billion during2016", Dialog Axiata said in an earnings release.

Dialog Axiata share ended 10 cents lower on Friday at Rs.13.50 a share. The group said it proposed a final dividend of 46 cents a share which is 35 percent of earnings.

Meanwhile the group has paid as much as Rs.35.7 billion to the government through taxes, fees and levies, the company said.

The segmental information showed that group's mobile operation recording an operating profit of Rs.13.9 billion, virtually flat from the last year but the revenue was up by 7.3 percent YoY to Rs. 78.9 billion.

Dialog now has a total mobile subscriber base of 12.7 million.

Group's fixed telephone and broadband segment recorded an operating profit of Rs. 1.4 billion for the year, a leap from just Rs.51.9 million last year. The segment's revenue was up by a strong 33 percent YoY to Rs. 10.5 billion. As of late, Dialog fixed broadband and its closest competitor, Sri Lanka Telecom, were seen making attractive offers such as free data to lure in more customers.

The group invested as much as Rs.27.3 billion during the year on high speed broadband infrastructure. This is an increase of 18 percent from 2016 and reflects a 29 percent capital investment from group revenue.

Meanwhile, Dialog TV revenue slightly declined to Rs.6.0 billion but the operating results remained in red with a loss of Rs.462.2 million from a loss of Rs.525.6 million in 2016.

During 2017, Dialog TV increased its subscriber base by 17 percent to exceed 980,000. In September Dialog acquired 80.34 percent in Colombo Trust Finance PLC of which the stake was later increased to 98.87 percent through a mandatory offer.

As of December 31, 2017, Dialog Axiata's Malaysian parent, Axiata Investments (Labuan) Limited held 83.32 percent stake in Dialog Axiata while the state-controlled private sector pension fund, Employees' Provident Fund held 2.22 percent stake being the second largest shareholder. Norwegian Central Bank Norges Bank held 1.62 percent stake in Dialog being the third largest shareholder.