---
The Development Lotteries Board (DLB) recorded successful financial achievements in 2016 with a recorded 25 percent increase in sales revenue over the previous year and a pre-tax profit increase of over 20 percent, a DLB statement said.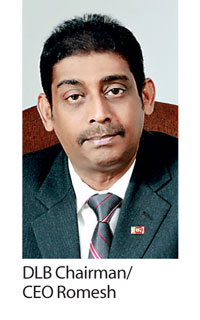 The DLB attributed the feat to the guidance of its Chairman/CEO Romesh Jayawardana and Deputy Chairperson R.I. Wimalasena along with the board of directors and management.
In 2016, the DLB contributed Rs.1800 million to the President's Fund, up from Rs.1600 million the year before. Its income tax payments increased from Rs.662 million to Rs.925 million.
In total, the DLB contributed Rs.3500 million to the government. This included Rs.1800 million to the President's Fund, Rs.556 million in VAT, Rs.468 million in income tax, Rs.456 million in default income tax and Rs.241 million in NBT.
Speaking of the outstanding success achieved by the DLB in the past year, Jayawardana said Finance Minister Ravi Karunanayake played a key role in their success. He noted that the minister offered direction and guidance at the weekly meetings in the ministry and that most of the ideas they implemented came from him.
Established in 1983 to raise funds for development activities, the DLB has picked pace under the new management. Today, it has nine popular products.