---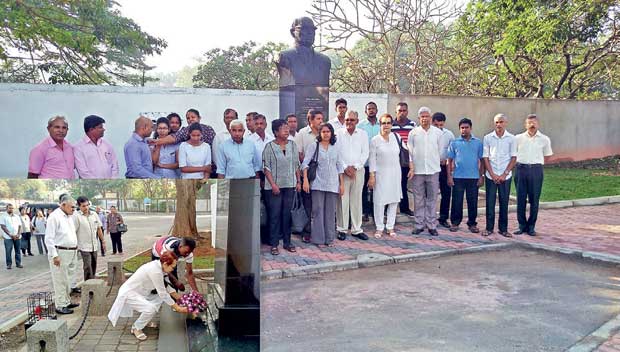 NU Jayawardena's daughter Neiliya Perera paying her respects to Jayawardena's memorial located opposite his former residence at Cambridge Place, Colombo.
The 109th birth anniversary of late Deshamanya NU Jayawardena, first Sri Lankan Governor of the Central Bank, senator and financier, was celebrated recently.
He was the founder of the Mercantile Group of Companies that formed the Merc Bank Sri Lank, Sampath Bank and several investment portfolios.
N.U. was born in the backwaters of Hambantota, studied at St. Servatius' College, Matara and completed his secondary education at St. Aloysius' College, Galle. Thereafter he gained a BSc in Economics from the Westfield College and studied Business Administration at the London School of Economics.
On his return to Ceylon, he took up his first job as clerk in the government service, which was uncommon for a graduate. In 1934, he moved to the Banking Commission and during World War II, he moved to the Department of Commodity Purchase and became the Controller of Exchange by 1948. Thereafter he worked closely with John Exter, the American economist in establishing the Central Bank of Ceylon in 1950 with Exter as its first Governor and Jayawardena as Deputy Governor. When Exter left in 1953, Jayawardena succeed him as the first Ceylonese Governor, holding the post till 1954 when he was interdicted.
However he was appointed first Ceylonese Joint-Managing Director of a British-owned firm, Vavasseur & Company and was exonerated in public service in 1957. Following his exoneration he was appointed to the Senate of Ceylon. Moving into the private sector, he founded the Mercantile Group of Companies.