---
Economist Deshal de Mel, who was working for businesses controlled by tycoon Dhammika Perera, will be trying his hand at public service by joining the Finance Ministry as an Economic Advisor, Mirror Business learns.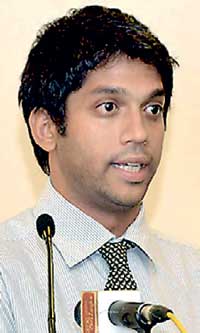 Sources said that de Mel was wooed by National Policies and Economic Affairs Deputy Minister Dr.Harsha de Silva and Finance State Minister Eran Wickramaratne—both economists who have had had successful careers in the private sector in the past.
de Mel, who started his career as a research economist at the Institute of Policy Studies, went on to become a Senior Economist at Hayleys PLC in 2010. He was later appointed as the Head of Business Development at Hayleys Global Beverages (Pvt) Ltd and a Director at Sampath Bank PLC.
The Colombo Stock Exchange was last week informed that de Mel had resigned from his director post at Sampath Bank.
de Mel also served as a Director at the Centre for Poverty Analysis.
He had obtained his undergraduate degree in Philosophy, Political Science and Economics from Oxford and a Masters Degree in International Political Economy from the London School of Economics.