---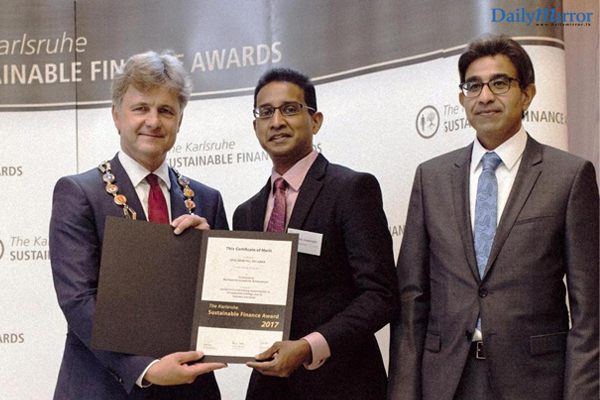 Senaka Jayasinghe - receiving the award from Dr. Frank Mentrup - Lord Mayor of Karlsruhe in the presence of Arshad Rab - CEO of the European Organisation for Sustainable Development
DFCC Bank was awarded a Certificate of Merit for "Outstanding Business Sustainability Achievement" at the Karlsruhe Sustainable Finance Awards organised by the Global Sustainable Finance Network which was recently held at the Karlsruhe City Hall, Germany.
The Karlsruhe Sustainable Finance Award honours financial institutions and organisations that have made significant contributions to the field of sustainable finance and the award winners were financial institutions that have successfully embedded economic, social and environmental sustainability into their business, and have made outstanding contributions in the field of sustainable finance. The Karlsruhe Award also seeks to promote the growth of sustainable financial instruments and markets worldwide particularly in the fields of green finance and investments, financial inclusion and social finance, green equity and venture capital and holistic integration of sustainability in financial services institutions.
Sri Lanka's DFCC Bank received the Certificate of Merit in recognition of their success in incorporating sustainability in its corporate strategy as well as its business processes.
Senaka Jayasinghe – Manager of DFCC Bank's Sustainability Unit received the award from Dr. Frank Mentrup, Lord Mayor of Karlsruhe. Arshad Rab – CEO of the European Organisation for Sustainable Development, was also present at the awards ceremony. Senaka was also invited to make a presentation on "Sustainability at DFCC Bank" at the Sustainability Conference held in Karlsruhe, organised by the European Organisation for Sustainable Development.
This is the 5thconsecutive year that DFCC Bank has been recognised at this prestigious sustainable finance event. Among the previous awards was the "Most Outstanding Sustainable Project Finance Award" in 2013, for the Bank's invaluable contribution towards developing the renewable energy sector in Sri Lanka and successfully operating the administrative unit for two credit lines from the World Bank towards development of renewable energy in Sri Lanka. DFCC Bank has also won Certificates of Merit under the Outstanding Sustainable Project Financing category for financing Sri Lanka's first grid-connected solar power project and for financing a 4MW Bio-mass project.
"Economic, social and environment development is deeply embedded in our values and informs how we conduct business, develop products and services," stated Arjun Fernando, CEO, DFCC Bank. "This award recognises DFCC Bank's deep commitment to creating sustainable value for the communities in which we operate, as well as our support for creating and nurturing sustainable finance practices in Sri Lanka."
DFCC Bank PLC is a part of the joint initiative by the Sri Lanka Banks Association (SLBA) to promote best practices in sustainable finance in Sri Lanka.With a rapidly expanding network of 138 branches and service points in Sri Lanka, the Bank is committed to creating financial inclusivity across the country, to enable all Sri Lankans to access financial services customised to their needs and aspirations.