---
Says backpackers from Asia another potential niche
Inquiries and bookings already coming in
Reservations received to date only for Dec. 2020 onwards
By Shabiya Ali Ahlam
As Sri Lanka's regular target markets for tourism are showing slim chances of opening up for travel in the immediate future, due to being heavily impacted by the coronavirus (COVID-19) pandemic, the representatives of the sector stressed the need to increase focus on the markets that are already bouncing back from the crisis, to increase tourist arrivals to the country.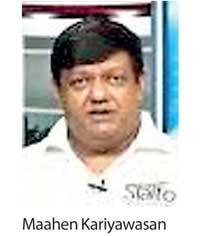 As Sri Lanka is looking forward to welcoming tourists from across the world from August 1, after closing the borders for about four months, the Sri Lanka Association of Inbound Tour Operators (SLAITO) said it is essential to divert attention to newer and higher potential markets to facilitate a speedy revival.

According to SLAITO President Maahen Kariyawasan, with Europe expected to take much longer to open up for air travel, it is ideal to focus on markets that are closer to home, such as China and Korea.

"We will have an issue in attracting tourists from the Schengen countries as they have not got the nod for overseas travel. In the current scenario, our focus should be on markets that are recovering well, such as China and Korea," he told Mirror Business.

Kariyawasan pointed out that with China being one of the first markets expected to pick up, the relationship between the two countries would help bring in tourists to Sri Lanka. Given the large population of the country, he added that there remains immense potential that is yet to be tapped.

With regard to Korea, Kariyawasan said it is a feasible new destination to promote Sri Lanka, due to its steady recovery from the pandemic, including the second wave.
Furthermore, he also pointed out that with tourists less likely to travel in large groups, Sri Lanka would have an inflow of backpackers from the region, a niche market the island nation should focus on.

When questioned on the efforts taken on promoting post-COVID Sri Lanka as a tourist destination, Kariyawasan shared that the global campaign would kick off with a renewed focus.

Providing an update on the bookings received thus far, he said that a satisfactory number of inquiries are coming in. However, the bookings received to date are only for the December season.

According to the statistics released by the Sri Lanka Tourism Development Authority (SLTDA), the countrysaw tourist arrivals contract by 44.1 percent during the first four months of the year, with no tourist arrivals in April, due to the termination of all passenger flights and ship arrivals into the island nation from March 18.