---
By Zahara Zuhair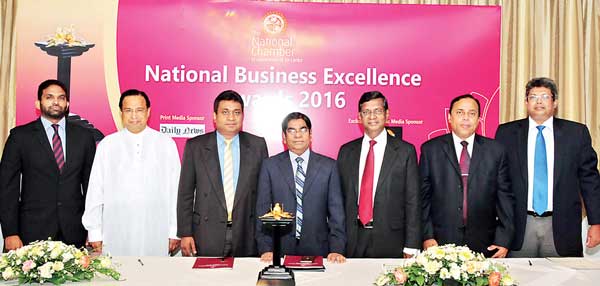 From left: MTV English News Director Shameer Rasooldeen, University of Moratuwa Senior Professor in Civil Engineering and NBEA 2016 Panel Judges Chairman Professor Malik Ranasinghe, National Chamber Senior Deputy President Sujeeve Samaraweera, National Chamber President Thilak Godamanna, NBEA Steering Committee Chairman and National Chamber Immediate Past President Sunil G Wijesinha, The Associated Newspapers of Ceylon Limited Deputy General Manager (Marketing) Waruna Mallawaratchi and National Chamber Secretary General / CEO Bandula Dissanayake
At a time Sri Lanka is faced with competition and attempting to attract Foreign Direct Investment (FDI), applying and learning from NBEA will be an excellent idea as it is one of the most comprehensive award ceremonies in this country, said National Chamber of Commerce of Sri Lanka Steering Committee Chairman and Immediate Past President Sunil G. Wijesinha at the launch of National Business Excellence Awards (NBEA) 2016, held in Colombo last week.

"Studies have indicated that excellence in award winning companies have benefited from reinforcing corporate direction, better sales performance, attracting and retaining talent, and it has greatly benefited small companies," he said noting that the principal objective of the scheme is to enhance the professionalism and level of excellence of Sri Lankan organizations.

Giving an example he said that the most famous award scheme in the world, the Malcolm Baldrige Quality Award was initiated to improve the United States companies when they were assailed by Japanese competition. He said that studies in the US have shown that financial results of award winning companies subsequent to the award have been better than others.

Pointing out that the worldwide research shows that excellence award winners outperform others, he noted that research carried out by many countries have affirmed that those who have been recognized as excellent companies have produced in subsequent years better financial results, more motivated committed employees, more loyal and satisfied customers, better product reliability and higher efficiency.

He further asserted that some studies also have proved that award winning listed companies have outperformed the stock market index, the sector index.

However, he said that although some complain about the intense details asked for, such details are common in the best excellent award schemes globally.

He said that in the last few years they gradually introduced more transparency in the marking scheme and today even the sub sub category marking scheme is made known to applicants as it is not a black box.

The organisers also encouraged businesses from the Northern and Eastern Provinces to participate in the competition as it will be in all three languages.

There will be 92 awards presented to the winners including the overall winners for Gold, Silver and Bronze and the scheme has separate category awards for extra large, large, medium, small and micro. Further it includes business sector awards as well as criteria awards.The award ceremony held for the 13th consecutive year will be take place at the Colombo Hilton on 30 November 2016.