---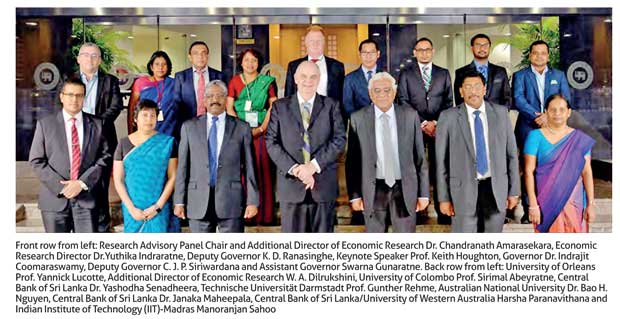 The 10th International Research Conference of the Central Bank of Sri Lanka was held on December 8th 2017 at the John Exter International Conference Hall of the Central Bank.

The conference was organised under the theme of 'Macroeconomic Policy Reforms towards a Vibrant Future', with the aim of encouraging innovative theoretical and empirical research on current macroeconomic policy issues, while providing a platform for researchers from policy making and academic institutions to share their experiences and views from diverse perspectives.

As in the past, the 10th International Research Conference attracted eminent researchers from renowned universities, research institutions and central banks around the world. This year's conference featured a keynote speech by Prof. Keith Houghton, Emeritus Professor of the Australian National University (ANU), who has been an influential figure in the Australian academia. Delivering the keynote speech, Prof. Houghton highlighted that public expenditure needs to be driven with the objective of providing 'value for money' for the taxpayers. He highlighted that public spending on government universities should be efficiently allocated using innovative evidence based techniques

The inaugural address of the conference was delivered by Central Bank Governor Dr. Indrajit Coomaraswamy. Addressing the gathering, Coomaraswamy highlighted the importance of developing robust frameworks for macroeconomic policy formulation in Sri Lanka and institutionalising those frameworks through legislative enactments. He emphasised the importance of revenue based fiscal consolidation and the process of transitioning to a flexible inflation targeting framework, and highlighted the importance of the Central Bank independence and accountability. He also acknowledged the importance of maintaining a flexible exchange rate to strengthen external resilience and the need for public liability management to achieve debt sustainability. The governor also highlighted that not only strong macroeconomic fundamentals but also structural reforms are essential for sustained economic growth and employment generation.

The two technical sessions of the conference were chaired by S. Gunaratne and H. A. Karunaratne, Assistant Governors of the Central Bank of Sri Lanka. The technical sessions included eight research papers on macroeconomic issues and financial sector issues presented by researchers from Australia, France, Germany, India and Sri Lanka, including researchers from the Central Bank of Sri Lanka. These research papers were selected by an eminent external panel of reviewers from local and international universities, the International Monetary Fund, the SEACEN centre and other reputed research institutions of the country. Dr. D.S. Wijesinghe Memorial Award for the Best Research Paper was awarded to Harsha Paranavithana of the Central Bank of Sri Lanka/University of Western Australia, for the paper titled 'The Transition from Exchange Rate Targeting: The Case of Sri Lanka'.