---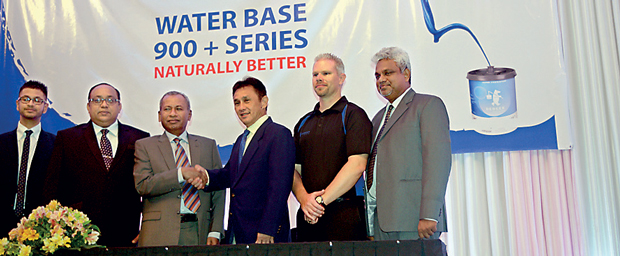 Causeway Paints Sri Lanka's No 1 automotive coatings company introduces the latest addition to their product platform with De Beer WaterBase 900+ series at the Golden Rose, Boralesgamuwa.
The programme was presented by Steve Brown (De Beer Technical Manger, Valspar Australia) and Peng Hooi,(Valspar APAC Sales Director).
"The launch of De Beer WaterBase 900+ to the Sri Lankan Automobile Coatings market signifies Causeway Paints commitment towards Innovation, Greener Environment and keeping up with International Trends." said Azaam Mowjood, Business Development Manager, Causeway Paints Lanka (Pvt) Ltd. "This new system provides increased productivity and cost savings to the body shop, while meeting global VOC compliance regulations."
Causeway Paints is currently working closely with OEM & Premium Bodyshops to upgrade and modify the workshop equipment's for the latest transformations., as well as providing New Skill Training for the employees.
De Beer Refinish has made ground-breaking strides in automotive OEM paint approvals. The recent announcement of Ford, General Motors and Chrysler global approvals has been a highlight in the automotive refinish market.
The De Beer Refinish WaterBase 900+ Series is one of the most user-friendly water-based coating systems currently available. Featuring hi-opacity mixing colours for quick creation of all solid, metallic, xirallics and pearl colours. One of the major benefits is that it is an entirely non-stirring system. WaterBase 900+ Series is a latex based product simply mixed with water based thinners.
The latex suspends the product in the container which eliminates any pre stirring, expensive stirring equipment and colour problems from unmixed tinters. The VOC-compliant range was developed by De Beer Research & Development laboratory in Lelystad, Holland where production also takes place.
Environmental regulations and consumer demand, have led to the development of low-VOC coatings. These new paints are durable, cost-effective and less harmful to human and environmental health. Low VOC coatings use water as a carrier instead of solvent bases. As such, the levels of harmful emissions are lower than solvent-borne surface coatings. The amount of VOC varies among different VOC-compliant products. Smash repairers find that switching to VOC compliant products from the Water Base 900+ Series is comparatively easy and require minimal investments. The system can be integrated into any standard bodyshop with additional drying equipment to increase drying time.
The De Beer WaterBase technology reduces solvent emissions by at least 50%. This is great for the environment and better for applicators health than traditional solvent based coatings. Additionally, your customers can feel confident their work has been completed with minimal emissions.
By using a waterborne system, not only the consumption but also the waste by-product of gun wash chemicals can be greatly reduced. Furthermore, 90 percent of clean-up can be completed with water. By reducing the waste also reduces the cost of disposing of the by-product. Let's build a better future together.