---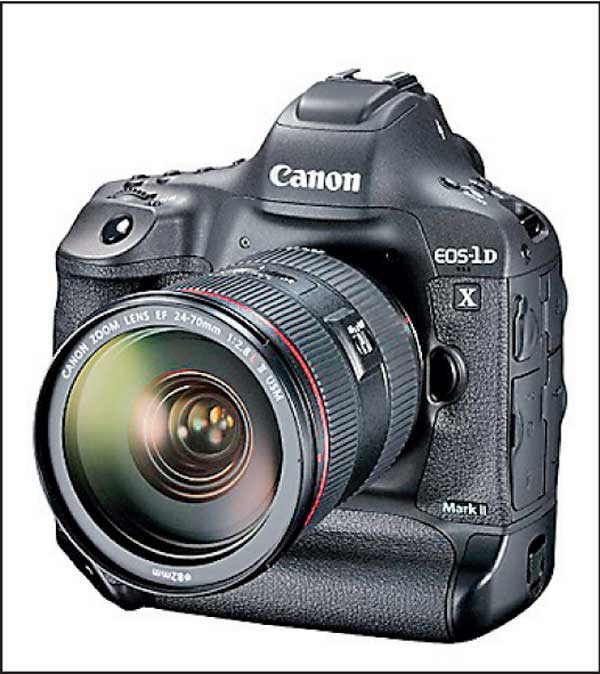 Canon launched the EOS-1D X Mark II, the new Canon flagship professional EOS DSLR model and long-awaited successor to the EOS-1D X.
The EOS-1D X Mark II brings together the latest developments in imaging technology and innovations in the EOS line to present a next-generation professional DSLR model, empowering users to push their boundaries in capturing the best shots. Professional photographers and video enthusiasts will delight in their ability to achieve stunning image quality with the EOS-1D X Mark II even in high-speed precision shooting scenarios typical to journalism, sports, and wildlife photography.

Metropolitan Photohub (Pvt) Ltd, the sole Distributor for Canon Cameras in Sri Lanka, hope to unveil this exclusive EOS camera shortly in Sri Lanka and are now accepting pre-orders for this latest model.

"The EOS-1D X Mark II is Canon's answer to professional photographers' unrelenting pursuit of excellence in imagery. In their line of work, capturing the best shots and videos are essential for a strong narrative no matter how challenging the environment," said Naohiko Hayashi, Senior Director and General Manager for Regional ICP Sales and Marketing, Canon Singapore. "The EOS-1D X Mark II will enable professionals to explore new creative outlets through features like the Dual Pixel CMOS AF, 16 fps continuous shooting in Live View mode and 4K Frame Grab capability."

With its new 61-point all points selectable AF system with 41-points cross type AF, photographers benefit from an expanded AF area (approximately 24 percent vertically) compared to the EOS-1D X.
Its low-intensity limit function at the centre AF is also improved to EV-3, thus ensuring a solid performance even in low-light and low contrast conditions. Beyond the hardware, the DSLR is equipped with Al servo AF III+, a new AF algorithm with AI servo scenes analysis that improves AF precision in scenarios involving fast and unexpected movements. With all 61-points compatible to effective aperture of f/8 or faster, autofocusing is possible even when using teleconverters on super telephoto lenses, equipment common in wildlife and sports photography.

Additionally, the mirror on the EOS-1D X Mark II is constructed with a new drive mechanism that quickly suppresses vibration which enables the DSLR to deliver a quick frame rate of 14 fps with AF and auto-exposure tracking enabled, and an even more impressive 16 fps when shooting with Live View, with no screen blackout. With a 1CFast 2.0 card slot for high-speed writing, the EOS-1D X Mark II can capture up to 170 RAW images and an unlimited number of JPEG images in continuous shooting mode.
EOS-1D X Mark II's Full HD recording feature comes with a new High Frame Rate mode that allows recording at 120/100, enabling slow motion video recording. The inclusion of a CFast slot caters to these high data-rate shooting modes.

The camera's ability to shoot at 60p means sports and wildlife photographers can now pick one out of the sixty images in every second of the video, thereby achieving a much higher image hit-rate and improving work efficiency.
The EOS-1D X Mark II breaks new ground for the EOS line with a newly developed 35mm full frame CMOS sensor, Dual DIGIC 6+ image processors, enhanced resolution of 20.2-megapixel images, and expanded ISO speeds of up to 409,600, one full stop higher than its predecessor the EOS-1D X. With this, users are able to achieve better shooting results in lowlight. The new 360,000 pixel RGB + IR metering sensor and EOS iTR AF system on the EOS-1D X Mark II greatly improves tracking precision.

A new in-camera Digital Lens Optimizer is now able to process and optimize RAW images in-camera. Previously available only in post-production, this editing function includes chromatic aberration correction, peripheral illumination correction, and for the first time in EOS history, diffraction correction. The combination of these corrective functions allows photographers to obtain higher quality JPEGs directly from the camera without using a computer, enabling fast image productions where time is of essence. The inclusion of Fine Detail picture style also pushes JPEG files to achieve even higher levels of sharpness.

For the first time in the EOS-1D series, GPS is built into the body of the camera. This allows all the photos to be tagged with accurate location information, providing users specific location references especially when travelling in between assignments and locations. Access to satellite clocks also ensures accurate time-stamp information, allowing for more efficient organization of images.

File transfer is also made easy with the Wireless File Transmitter, WFT-E8D, available as an option with the EOS-1D X Mark II. The WFT-E8D supports high speed file transfer which supports and allows seamless wireless connection between the photographer's smartphone and the camera, allowing photographers to remotely control the camera for still image shooting, movie recording and transferring of images from camera to smartphone all via Canon's Camera Connect app. The EOS-1D X Mark II is also equipped with a USB 3.0 port for high speed data transfer.