---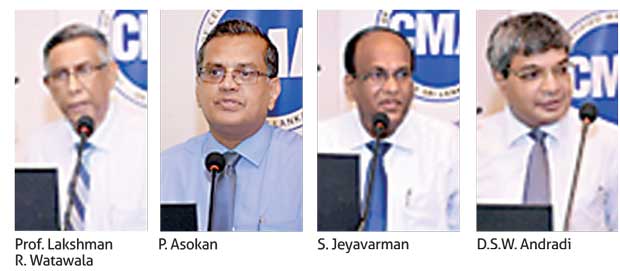 An evening discussion on the capital market as a source of corporate finance was organised by the Continuing Professional Development (CPD) Committee of the Institute of Certified Management Accountants of Sri Lanka (CMA) recently, at the auditorium of the CMA
CMA President Prof. Lakshman R. Watawala inaugurated the seminar and delivered the welcome address. In his address he explained that the institute has refurbished the auditorium and can conduct programmes of this nature conveniently on a regular basis to widen the knowledge of students and members of the institute and external participants.
The speaker, P. Asokan, was introduced by CPD Committee Member S. Jeyavarman. Asokan, who has wide experience in banking and capital markets, made the presentation on the subject.
Asokan in his presentation covered the methods of raising funds for short and long-term needs of companies, types of financial instruments available in the capital market of Sri Lanka, advantages of listing securities and explained about corporate governance practices in the corporate world. His presentation and the discussion that followed provided an excellent learning experience to the participants.
This seminar was organised by CMA as the first in the series to help the members to update their knowledge on core and allied subjects.
CPD Committee Chairman D.S.W. Andradi thanked everyone for their support and participation and outlined the purpose and the plans of the CPD Committee in his closing address.