---
Unilever Sri Lanka National Finance Director Priyadharshana Ekanayake (ACMA, CGMA) has worked for Unilever in Sri Lanka, Singapore and India. During his 25 years at Unilever, his professional experience spans all finance functions - in regional, global and local roles.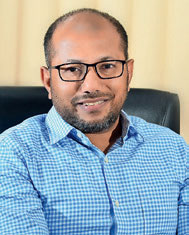 Ekanayake's CIMA journey began with his decision to enter the accountancy profession. With its unique blend of management accounting, financial accounting, people, business and leadership skills, CIMA became his first choice. He believes that CIMA gives a holistic understanding of a business and its operational environment.
"In real life, you do not work in a bubble but as part of an organisation. I believe that CIMA prepares you for the boardroom as you gain views from different disciplines," he said.
For Ekanayake, the most appealing aspect of the CIMA Professional Qualification is its ethical framework.
"It will guide you to undertake the right and sustainable actions."
His advice to young professionals undertaking leadership roles in the corporate world is to build a solid foundation, which will help them propel their careers further.
In a rapidly changing world of uncertain economic and geo-political shifts and disruption created by technology, Ekanayake believes an educational or professional qualification must stay abreast with these developments in order to retain its lasting value. He believes that CIMA through its regular updates to the syllabus fulfils this purpose.