---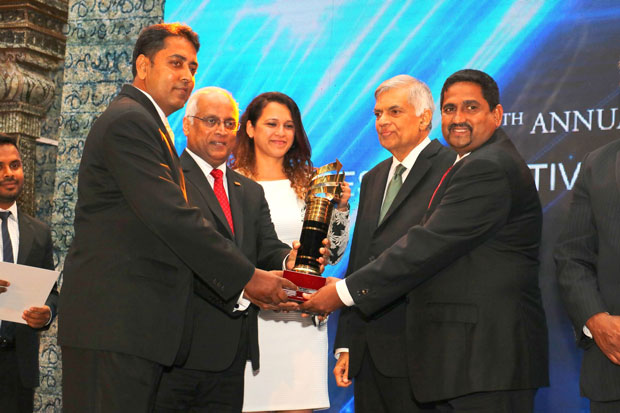 CICT's Head of Marketing and Commercial Catriona Jayasundera participates in the presentation of the 'Best Innovative Exporter of the Year' Gold award to Rileys at the NCE export awards
Colombo International Container Terminals (CICT) sponsored the 'Best Innovative Exporter of the Year' at the 25th annual export awards ceremony of the National Chamber of Exporters (NCE).
The winner of the Gold award for 2017 wasthe Hayleys PLCcompany Rileys (Pvt) Ltd,a leadingmanufacturer and exporter of coir, rubber and flocked doormats.

Commenting on the sponsorship of this award, CICT's Head of Marketing and Commercial Catriona Jayasundera said, "Being a vital link in the logistics chain, CICT believes that supporting the export community or the export trade is not only our responsibility but is something we must strive to do. It is with this view that we supported the NCE for this prestigious event. We believe that it is through innovation that efficiency and diversity are born. This is something that is centraltoour work and is why we specifically chose this award category."

The first and currently the only deep water terminal in South Asia equipped with facilities to handle the largest vessels afloat, CICT reported a throughput of 2 million TEUs for the year ending 31stDecember 2016, achieving impressive YoY growth of 28 per cent in volume. Over the past two years, CICT has brought some of the largest vessels plying the Asia-Europe routes to Colombo.