---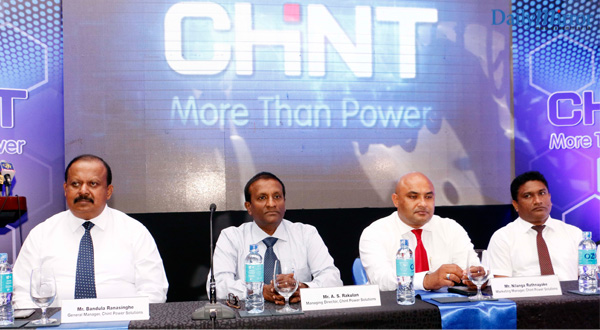 From left …Mr. Bandula Ranasinghe , General Manager , Chint Power Solutions, Mr. A.S. Rakulan, Managing Director, Chint Power Solutions, Mr. Nilanga Rathnayake, Marketing Manager, Chint Power Solutions and Mr. Kumudu Muthukumarana, Sales Manager , Chint Power Solutions
A renowned world-class player in the energy industry, CHINT is committed to providing secure, reliable and high quality domestic and industrial electrical switchgear and equipment across the country.
A leading brand in the electrical industry in Asiaand founded in 1984, CHINT's organization spans the world with setting up manufacturing plants in Germany, Spain and the USA, and having trading establishments in over 130 countries across the globe with a staff strength of over 30,000 employees.CHINT is also ranked as one of the leading PV Solar manufactures in the world.
CHINT strives constantly to fulfill increasing demands of its customers through continuous technological innovations and a rigorous pursuit for quality. At present it prides itself to be the 'only international electrical switchgear brand available in Sri Lanka' to secure the SLS quality certification for five different products for its superior quality.
In addition, with the successful presence in overseas markets, CHINT has secured quality certifications from various accredited international institutions such as UL from USA, VDE of Germany, and KEMA from Netherlands to name a few.
In Sri Lanka, CHINT has had a powerful presence for over a decade and in the year 2005 CHINT was originally introduced to the Ceylon Electricity Board for its requirements. CHINT became the 'most preferred low voltage switchgear brand'since then for the CEB initiative of 100% rural electrification programme having supplied over 1.8 Million pieces of low voltage protective switchgear to date.
In 2010, as a result of CHINT's growing popularity in the local market, the company initiated an island wide distribution operation, taking the brand all across the country. The product range which is presently considered of having the 'widest range of electrical items under a single brand name in Sri Lanka' is now available at your closest electrical and hardware shop and comprises of CHINT's flagship range – Protection and Control gear (low voltage switchgear),switches and sockets and also electrical accessories.
High quality and consistency are the key aspects of electrical protective switchgear and CHINT is one of the first international switch gear brands to secure the Sri Lankan Standards Certification (SLS) for its MCBs and RCCBs to ensure safety and reliability safeguarding the local consumers.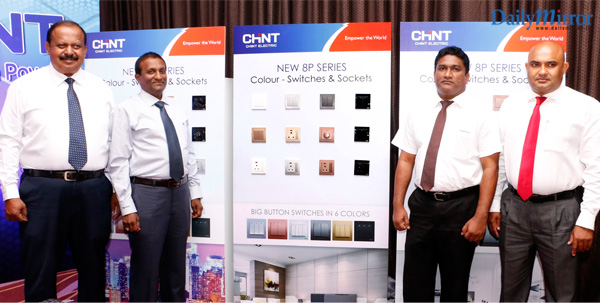 Market feedback indicates that CHINT is a trusted brand among consumers and electricians whilst the preference of electrical industrialists is its consistent quality and widest range of product availability.
Being the pioneer in the country to introduce the commonly known 'big button' electrical switches and sockets series in keeping with global trends, CHINT recently proudly announced another addition to its prolific range – the 'CHINT POWER Series' switches and sockets in a range comprising of six elegant colours namely black, silver, champagne , grey black, coffee and white which would be available shortly at all electrical and hardware outlets island wide.
CHINT POWER Series switches and sockets are not only of high durability but also designed to ensure the aesthetics of a building are enhanced.
Managing Director of CHINT, Mr. A.S.Rakulan, a veteran in the industry, extols passionately about the brand and looks to strengthen its partnerships with consumers and the government institutions in enhancing the quality of life with safer and nicer homes and offices.
Speaking at the launch Mr. Bandula Ranasinghe, General Manager of CHINT said, "The strength of CHINT is its rigorous pursuit of quality, thereby enhancing the quality of lives, making homes, offices, buildings, safer and nicer places to be in."