---
Central Bank Governor Dr. Indrajit Coomaraswamy has hinted a strong possibility of a policy rate cut at the next monetary policy review, as he sees "a strong case for relaxing monetary policy."

"If you look at all indicators, there's a strong case for relaxing the monetary policy," Governor Coomaraswamy told Bloomberg Television's Haslinda Amin during an interview in Singapore yesterday.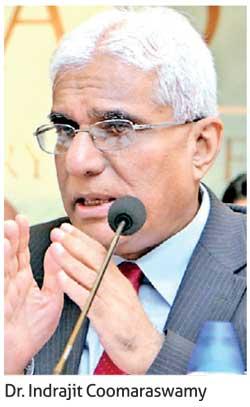 "All options are there. It could be a SRR, it could be a policy-rate reduction, it could be a combination of the two," he said, referring to the statutory
reserve ratio.

The next monetary policy review, the third one for this year, is scheduled for May 31.

The Central Bank at the last monetary policy review on April 8 kept the benchmark lending rate (Standing Lending Facility rate) at 9 percent and signaled the room for monetary easing.
But in this year's first monetary policy review in February, the Central Bank cut the Statutory Reserve Ratio (SRR) by 100 basis points to 5 percent to improve liquidity in domestic money market.

SRR was reduced by 1.5 percent to 6 percent in mid-November last year.

Although the government is yet to come up with official estimations, Easter Sunday attacks by a home-grown jihadist group has delivered a deadly blow to the island nation's US $ 87
billion economy.

The booming tourism sector was the worst affected as the Islamist terrorists targeted three five-star hotels in Colombo along with three churches to carry out the suicide
bomb attacks.

Tourist arrivals have slowed significantly and hotel occupancy rate island wide has declined to less than 15 percent.
Tourism, which raked in US $ 4.4 billion earnings last year, accounts for 5 percent of Sri Lanka's economy.

"Clearly this hit to growth has increased the output gap even more, and the private sector has also slowed down. Monetary aggregates are where we want them to be, so there is certainly a case for relaxing the monetary policy," Coomaraswamy said.

Even before the Easter Sunday attacks Sri Lanka's economic growth had slowed down significantly due to weather related issues and a political crisis in the latter part of 2018 that lasted for 50 days.

The growth declined to 1.8 percent in the fourth quarter of 2018 down from 3.7 percent a year ago. Overall, the economy is estimated to have grown 3.2 percent in 2018, down from 3.4 percent a year ago.

Sri Lanka faces two crucial elections in the latter part of this year and early next year, and concerns regarding economic growth and national security are expected to take center stage.
A recent Reuters poll said economic growth this year is expected to hit a two-decade low.

Meanwhile, providing a glimpse of hope, the International Monetary Fund's (IMF) Executive Board on May 13 granted one-year extension for Sri Lanka's US $ 1.5 billion loan programme, which could help boost investor confidence on the island nation. IMF maintains a 3.5 percent growth forecast for Sri Lanka this year without factoring in the recent bombings and the resultant disruption to the economy. IMF said they are yet to receive official data to revise their forecasts.
---
To raise US $ 2bn via int'l bonds before polls
Central Bank Governor Coomaraswamy told Bloomberg Television that Sri Lanka would raise up to US $ 2 billion through international bond sales before the presidential elections scheduled to be held later this year.

He said that it should help boost foreign reserves to US $ 8 billion by the end of the year after they fell to US $ 6.7 billion in the aftermath of last month's attack.
After the resolution of the political impasse in December, Sri Lanka this March successfully raised US $ 2.4 billion from international capital markets through US $ 1 billion 5-year and US $ 1.4 billion 10-year issuances.

IMF last week said Sri Lanka could tap international bond markets for funds as soon as the country's security situation stabilizes.

IMF also said Easter Sunday bombings and the resultant economic slowdown don't pose a major threat to Sri Lanka's debt refinancing capacity.

Sri Lanka successfully repaid two large bond issuances fully amounting to US $ 1.5 billion in January and April this year.

The next large international bond repayment is due in October 2020..