---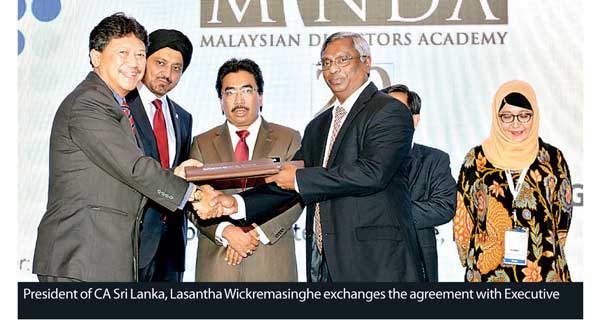 The Institute of Chartered Accountants of Sri Lanka (CA Sri Lanka) recently signed a Memorandum of Understanding with the Malaysian Directors Academy (MINDA) in an effort to develop a framework which will facilitate exchange of information, as well as enhance the effectiveness of the Board and its Directors. The agreement which was signed by President of CA Sri Lanka, Lasantha Wickremasinghe and Executive Director of MINDA,Dato' Abdul Aziz Abu Bakar, in Kuala Lumpur, Malaysia, aims to establish a framework for mutual assistance and to facilitate the exchange of information between the two organizations.

The MoU will also pave way for the exchange of information in the corporate governance landscape in pursuit of enhancing the Board and the directors' effectiveness.

Among the initiatives to be explored under the MoU are the joint promotions of Professional Learning and Development programmes, Joint research and Advocacy work on Board Effectiveness best practices, Directors Sourcing and Board Placement, Board and Director Effectiveness Assessments, among others. Wickremasinghe said that CA Sri Lanka was paying increased efforts in enhancing the corporate governance in the country, and the agreement with MINDA will complement this effort further.

"This agreement will help us share important resources between the two parties, which will help further strengthen the corporates, including the Boards and its directors, thereby enhancing their standing as well as knowledge, and helping them remain progressive," he said.