---
Calls for mindset change to building buffers instead of living on the edge
Urges need for proper barometers that would help reflect real status of economy
By Shabiya Ali Ahlam
As Sri Lanka is highly vulnerable to external shocks, such as those stemming from climate change and natural disasters, senior economist and former Central Bank Governor Indrajit Coomaraswamy stressed it is essential for the country to look at building buffers instead of choosing to continue to live on the edge.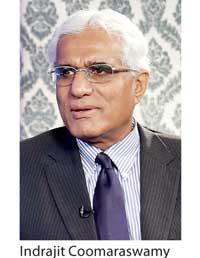 "Going forward with this (building buffers) is going to be very important. In Sri Lanka, we like to live on the edge and that is what we have been doing for the past decades.

We need a mindset change and need to build these buffers if we are to deal with the pandemics and disasters in the future," Coomaraswamy told a webinar hosted by the United Nations (UN) earlier this week.

He stressed given the fact that the COVID-19 is not going to be the last pandemic as Sri Lanka is among the top six countries in the world vulnerable to shocks of climate change, building fiscal buffers and building buffers in terms of the country's external reserves are essential to safeguard against the threats from future shocks.

Coomaraswamy said Sri Lanka could learn from the experiences of nations such as Singapore, whose government provided financial support for its people and businesses even though the barometer indicated such relief measures were not necessary.

He also pointed out the need to have proper barometers that would help reflect the real status of the economy, as felt by the citizens.

Even though Sri Lanka has faced major economic impacts in the past and continues to grapple with policy inconsistencies, the country does not have sophisticated economic barometers in place, thus challenges persist in capturing the actual economic status of the citizens to roll out relevant courses of action.

Echoing the sentiments of Dr. Coomaraswamy was University of Colombo Professor of Medicine Prof. Saroj Jayasinghe, who highlighted the absence of an appropriate
social barometer.
"We do not have good social barometers. We need to work on that to know the perception of people. We need to capture such sentiments and for that we need fund research in that area," said Prof. Jayasinghe while sharing Sri Lanka's recovery story at the webinar that focused on COVID recovery stories of Asia.

Meanwhile, Lee Kuan Yew School of Public Policy panelist Ruben Ng noted that innovative techniques are needed to dynamically track changing narratives during the pandemic.
"Social narratives could serve as a mirror to the progress of a pandemic by identifying blind spots. It is essential for governments to own, customise, and shape narratives during a pandemic to lessen the growth and impact of false narratives,"
he said.