---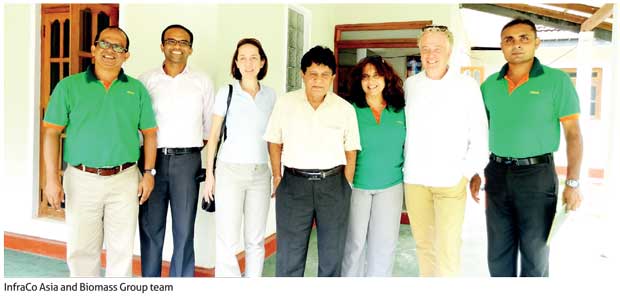 InfraCo Asia Development Pte. Ltd (InfraCo Asia), has signed a Joint Investment and Development Agreement (JDA) with Biomass Group Ltd (Biomass Group) for investment in Biomass Ventures Pte Ltd (Biomass Ventures) to develop a first-of-its-kind, agri-energy infrastructure project in Sri Lanka.

The project will help align the country's agricultural and industrial sectors by producing wood chips and pellets from the Gliricidia sepium trees. This project will provide a new stream of income to smallholder farmers and a fresh source of clean energy.

The investment will support the development of a biomass supply chain and pellet plants in Sri Lanka. On the supply chain side, the scope of the agreement includes supporting the development of the PLanT (Produce, Logistics and Tracebility) IT platform.

The platform will help track the production of the more than 100,000 smallholder farmers ­targeted to grow and harvest material from Gliricidia trees and streamline smallholder farmers' production of raw material. It will also track Gliricidia growth and concentration and other cash crops, as well as enable efficient harvesting, collection, and transportation to the processing plants.

The Technical Assistance Facility (TAF), a sister facility of InfraCo Asia and also part of the Private Infrastructure Development Group (PIDG), has provided an additional grant to support the monetization of carbon credits being generated through the sequestering of carbon in the Gliricidia trees. The project will be registered for forestry carbon credits and net proceeds will go directly into development activities for surrounding communities.

Allard Nooy, InfraCo Asia CEO, said, "InfraCo Asia is proud to be working with a partner who is committed to leveraging and enhancing synergies between the agricultural and industrial sectors. Biomass Group adeptly balances the need for commercial viability while providing smallholder farmers with a new income stream. The result is a product that has the potential to help millions of people have better access to clean energy."

Lucky Dissanayake, Director of Biomass Group Ltd, said, "Biomass Group will have a transformative impact on Sri Lanka's energy and agriculture landscape. At the same time, we aim to provide economic empowerment to the smallholder farmers registered to supply. In some cases, we expect farmers to double their per capita income by participating in the programme."