---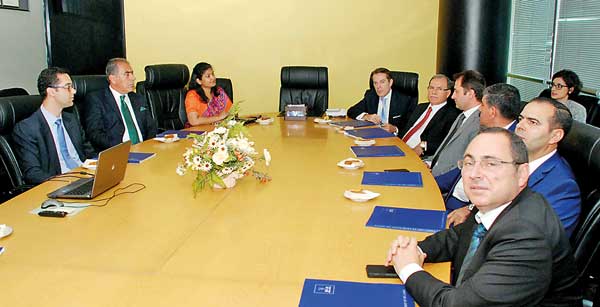 A Turkish business delegation led by Tunca Ozcuhadar, Ambassador of Turkey in Sri Lanka met the Board of Investment of Sri Lanka on 09th of May at the head Office of BOI.Senior officials from the BOI, embassy officials and the Turkish delegation participated at this meeting.

The Turkish visiting delegation comprised of different sectors such as, Food Processing, Textile and Garment manufacturing, Cement and Tourism. While welcoming their business interest, BOI shared information relating to the potential for starting investments in Sri Lanka. The delegation was briefed about the facilitation that the BOI is providing to setting-up projects in Sri Lanka by Renuka Weerakone, Executive Director(Investment promotion) assisted by Manoj Casser, Assistant Director (Promotion).
There are already a small number of Turkish companies operating in Sri Lanka which are involved in the Manufacturing and IT sectors. Whilst Turkish investments are still comparatively small, the Turkish economy has grown in recent years to become one of the largest in its region.
The delegation expressed their interest and shared views on investing in Sri Lanka and the BOI encouraged them to consider the attractive opportunities that the country offers to investors. Further Ambassador Tunca Ozcuhadar informed the BOI that a large delegation with many high profile and reputed Turkish companies will soon be undertaking a visit to Sri Lanka to explore opportunities in trade and investment.