---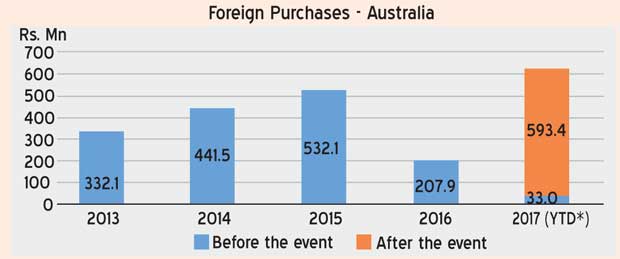 Foreign inflows to the Colombo bourse originating from Australia indicate a figure of Rs.626.4 million year-to-date, which is an all-time record for foreign purchases from Australia in a calendar year, the Colombo Stock Exchange yesterday (CSE) said.

The YTD outflow was recorded at Rs.77.2 million, resulting in a net inflow of Rs.549.2 million. CSE in association with the Securities and Exchange Commission (SEC) hosted a series of Invest Sri Lanka Investor Forums to promote Sri Lankan capital market investment in Australia during March 2017.
Rs.593.4 million, which attributes to 95 percent of the purchases this year, have been recorded since the Invest Sri Lanka Forums. Record inflows from Australia also place the country as the 10th ranked contributor in terms of overall net foreign flow in 2017, a noteworthy development considering the fact that an actual outflow of funds to Australia amounting to Rs.80.2 million was recorded in 2016.
A strong community of individuals with a Sri Lankan origin are eager to look at new Sri Lankan investment opportunities and the celebration of 70 years of diplomatic ties between Sri Lanka and Australia presented the CSE with a unique opportunity to promote the capital market in Australia this year.