---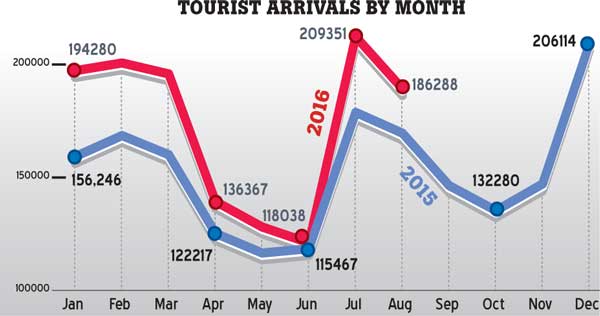 Tourist arrivals to Sri Lanka were up by 11.8 percent to 186, 288 in August from a year ago with India, China and the United Kingdom leading the pack while the total arrivals too rose by 16 percent to 1, 359,906 during the first eight months.

While the earnings for the same period have still not been published, the sector has brought in US $ 1.9 billion for the first seven months, the Central Bank data released last week showed.
Sri Lanka targets 2.2 million arrivals this year but the portfolio minister is confident of even surpassing the number to a record 2.5 million tourists in 2016.

Arrivals from Sri Lanka's top source market, India, rose by 3.7 percent to 24, 418 in August from a year ago while the eight months showed 224, 924 arrivals, recording an increase of 16.1 percent from a year ago.
Arrivals from the fastest growing source market, China, moderated to 11.3 percent year-on-year (yoy) to 27, 519. During the first eight months there have been 190, 992 arrivals from China, up 32.2 percent from the same period, last year.
In July, Chinese arrivals rose by 21.9 percent to 30, 631 while June arrivals grew by 28.8 percent or 19, 952.
India, which is the world's fastest growing economy and, China, the world's second largest economy, have a fast expanding middle income class for whom Sri Lanka offers a tranquil travelling destination. But the country still lacks diversified offering to cater to the travellers with diverse interests.
However, in recent times Chinese outbound tourists saw some deceleration as the arrivals to Maldives in July dropped by 12.2 percent Year-on-Year (yoy) to 35, 456 pinching the industry and the economy of the archipelago.
Meanwhile arrivals from the United Kingdom, Sri Lanka's third largest source market, rose by 14.3 percent yoy to 20, 475. The eight months arrivals rose by 18 percent to 131, 124.
Many economists expected the UK economy to sink following Britain's decision to leave the European Union. They forecasted this could create spill-over effects on Sri Lanka's tourism as the falling Sterling could make outbound travelling expensive for an average Briton.

Meanwhile, the arrivals from the North American region rose by 29.3 percent yoy to 9, 105 while arrivals from the Western European region rose by 16.4 percent yoy to 64, 942 in August. The faster rise in arrivals from these two regions could be attributable to Asia being a relatively safer region for travellers from America and Europe after the back-to-back terrorist attacks in Europe in the recent past.
Arrivals from the Eastern European region continued to sink as the arrivals from Russia have declined significantly. During the first eight months, the Russian arrivals came down by 15.9 percent yoy to 33, 457.

Arrivals from the Middle Eastern region rose by 20.8 percent in August to 18, 746 while the eight months arrivals increased by 9.3 percent yoy to 76, 454. However the arrivals from the United Arab Emirates decreased by 20.2 percent yoy to 5, 810.

Tourism offers a bright spot in an otherwise ailing Lankan economy which has no other tangible dollar inflows apart from worker remittances which are growing at a rather slower pace.