---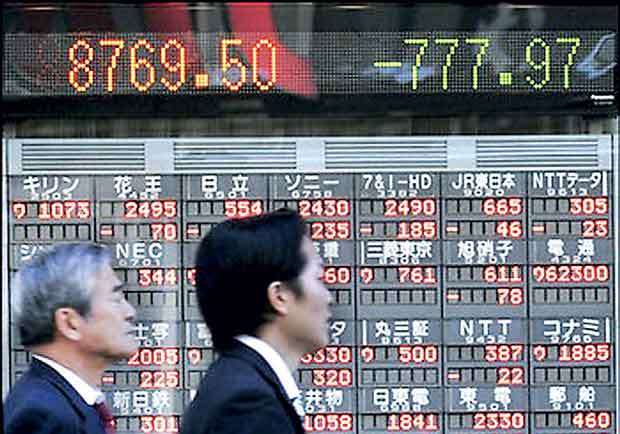 While concerns over the China-US trade row hang in the air, equities continue to be supported by optimism that the global economy and companies are in rude health
HONG KONG (AFP) - Asian markets rose yesterday, tracking a rally on Wall Street where investors were buoyed by the Federal Reserve's positive outlook for the US economy, and oil added to gains with predictions it could be headed back to US $100.

While concerns over the China-US trade row hang in the air, equities continue to be supported by optimism that the global economy and companies are in rude health.
That was reinforced by the Fed Wednesday as it lifted interest rates and indicated more to come over the next year citing the strong labour market and playing down concerns about vulnerabilities in the financial system.

"One thing that's telling is the current price action which sees investors continually coming back for more. That suggests the gushing US economy and not trade wars, continues to influence investors' decisions," said Stephen Innes, head of Asia-Pacific trading at OANDA.

All three Wall Street indexes ended with gains and Asia followed suit. Tokyo led the way, ending 1.4 percent higher as exporters were boosted by the weaker yen, which is at its lowest level against the dollar this year.

Shanghai gained 1.1 percent, Sydney rose 0.4 percent and Singapore climbed 0.6 percent. Wellington added 0.7 percent while there were also solid performances in Manila, Mumbai and Jakarta.

Hong Kong added 0.3 but property firms were again hit after the city's banks on Thursday lifted commercial lending rates for the first time in 12 years following the Fed hike. Seoul and Taipei ended lower.

While the prospect of higher US rates has lifted the dollar, the upbeat mood is also helping emerging market and high-yielding currencies, which have been swiped in recent weeks by the trade war fears.

The South Korean won, Indonesian rupiah, Thai baht and Mexican peso were all being well bought while the Turkish lira jumped more than one percent, despite ongoing concerns about the country's economy.

The euro continued fell further after losing almost one percent Thursday as Italy's populist government agreed on a budget deficit target of 2.4 percent of gross domestic product for next year, fuelling fears of a bust-up with Brussels.

Yesterday those fears looked to be coming to fruition when EU Commissioner Pierre Moscovici hit out at the Italian move, which he called "beyond the limits of our shared rules".

In early trade London shed 0.2 percent, while Paris and Frankfurt were 0.5 percent lower as traders were rattled by the brewing row.

Crude prices extended gains on growing concerns about supplies following a decision not to increase output by key producers, just as Iran faces export sanctions and Venezuela continues to be dogged by political and economic crises.
Also, the US energy secretary this week ruled out using the country's emergency stockpiles to ease prices.

Bloomberg News reported that the chief executive of oil and gas major Total, Patrick Pouyanne, saw prices swinging to the US$100 levels last seen in mid-2014.
"Everyone's worried about the tightness in supply at the moment and that's continuing to push up prices," Will Yun, a commodities analyst at Hyundai Futures, said. "But volatility is coming as we're still waiting for further response from the US."
Also, the US energy secretary this week ruled out using the country's emergency stockpiles to ease prices.

Bloomberg News reported that the chief executive of oil and gas major Total, Patrick Pouyanne, saw prices swinging to the US$100 levels last seen in mid-2014.
"Everyone's worried about the tightness in supply at the moment and that's continuing to push up prices," Will Yun, a commodities analyst at Hyundai Futures, said. "But volatility is coming as we're still waiting for further response from the US."