---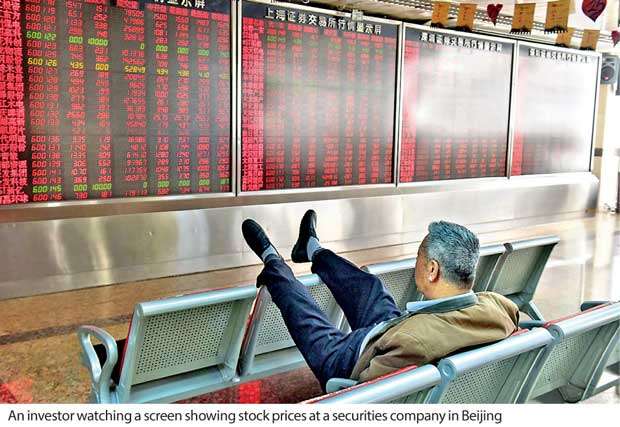 HONG KONG (AFP) - Asian markets were mixed yesterday, with Shanghai bouncing back from early losses to end the week with a rally following a rare joint intervention by some of China's top financial officials.

Comments from Vice Premier Liu He and the heads of the central bank, securities commission and banking regulator, were made to shore up confidence in China's equities and came as data showed growth in the world's number two economy slowing to a nine-year low.

Global investors have been swiped by a series of problems in recent months including rising US interest rates, geopolitical tensions and the China-US trade conflict, and they are running to the hills as they seek out safe havens.

Another round of mixed earnings out of Wall Street and expectations the Federal Reserve will lift borrowing costs for some time also weighed, helping to send all three major indexes in New York sharply lower Thursday.

Treasury Secretary Steven Mnuchin's decision to pull out of a huge investment summit in Saudi Arabia added to the unease as it was the clearest indication yet of the White House distancing itself from Riyadh over the disappearance of a journalist.

Those losses spread to Asia in the morning, with a slowdown in China providing further concern.

The economy expanded 6.5 percent on-year in the third quarter, the weakest rate since 2009.

The numbers were in line with forecasts in an AFP poll but much slower than the 6.7 percent seen in the previous three months, and were hit by the US trade row and a deleveraging drive.

The result is the latest highlighting weakness in China, a crucial driver of global economic growth, with observers predicting fresh stimulus following a series of measures earlier this year.

"We expect further escalation of US-China trade tensions going into 2019, which will likely be partially offset by yuan adjustment and more growth-supportive fiscal and monetary policies," JPMorgan economists, led by Zhu Haibin, wrote.

"We expect fiscal and monetary policies to become more growth-supportive, providing a lift to headline GDP growth."

Before the release media published interviews with the four top officials saying they were confident in the Chinese economy and the stock market despite a 30 percent drop in the Shanghai Composite Index from its January peak.

Lui told state-run media that "the psychological impact is greater than the actual impact" and that China's suddenly more-affordable shares were "creating good investment opportunities".

After starting the day in negative territory, Shanghai ended Friday 2.6 percent higher, while Hong Kong also performed a u-turn to gain 0.4 percent.

Other regional markets also pared their initial losses or ended with gains. Seoul added 0.4 percent but Sydney and Singapore were each down 0.1 percent, while Taipei eased 0.4 percent and Jakarta dipped 0.1 percent.

Wellington and Mumbai were both more than one percent lower.
Although the US economy and Wall Street markets remain healthy, there are warnings the troubles in China -- where the yuan is heading to seven per dollar for the first time since the start of 2017 -- could spread.

"While the US markets have been somewhat insulated from China equity market meltdowns this year, that strong historical correlation that 'when China sneezes the rest of the world catches the flu' is starting to take hold," said Stephen Innes, head of Asia-Pacific trade at OANDA.

Traders are keeping an eye on Europe where Brussels hit out at the big-spending budget of Italy's populist government, which has fuelled concerns of another crisis in the bloc at the same time it struggles to agree a Brexit deal with Britain.

On foreign exchanges the dollar pressed ahead against high-yielding and emerging market currencies, which have been hit by rising Fed rates.

Oil prices edged up after Thursday's sharp losses that were caused by a surprise jump in US stockpiles, while fears about the Chinese outlook are also weighing.
Adding to downward pressure is speculation that major producer Saudi Arabia could weaponise the commodity and dramatically raise output as it comes under pressure over the mystery surrounding missing journalist Jamal Khashoggi.

In early European trade London rose 0.3 percent, Paris was flat and Frankfurt eased 0.1 percent.